Join, Share, and Learn - What makes a Joomla! Day so Special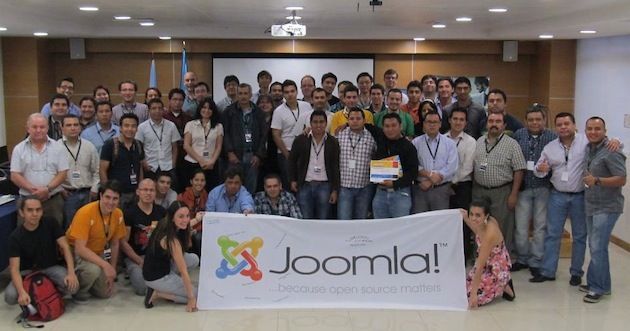 In April, Guatemala City was very proud to join the Joomlaverse Joomla! party by hosting the second Joomla! Day Guatemala, after the successful first event in 2012.
Being part of both Joomla! Day Guatemala team and the Joomlashack team (proud Gold Sponsor for the second time), I was very excited about this new event. I enjoyed it thoroughly, from the first day we thought of it and started planning it, until the last international speaker left.
Join, Share, Learn at Joomla Day Guatemala
Join, Share, and Learn - - these are the three founding pillars of the Joomla! Users Group (JUG) in Guatemala City. They have inspired every one of our efforts with this year's Joomla! Day being no exception. It was a priviledge because even as organizers, we got to enjoy two days of Joomla! fellowship, interactivity with like-minded individuals, and interesting learning sessions.
The first day we went over Joomla! basics and template creation. We even taught how to use Joomlashack's Wright Framework for customising a template. The second day we had more advanced sessions about content management, ACL, multi language and IT security. In between them, we shared meals, beers, stories, jokes, more beers, while we developed new friendships.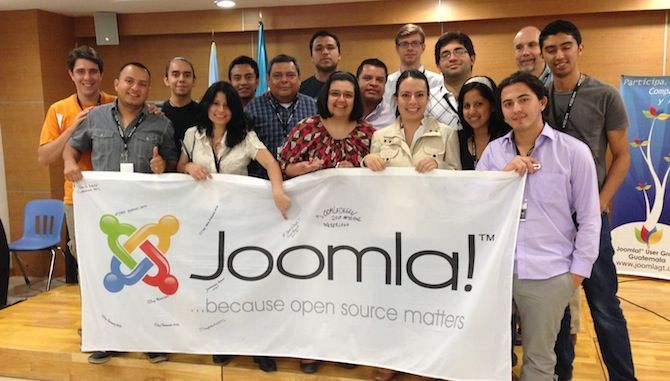 Speakers, Joomla! Day team and international attendees with the Joomla! Day banner
Lots of new faces
Many of the participants were attending for the first time. It is really wonderful that our JUG Guatemala has continued to attract more and more people interested in learning, joining, and supporting our Joomla! community. They were already thankful and happy to be learning Joomla! so becoming part of the community was an added bonus. Many of them have expressed interest in continuing to participate in the JUG activities.
We had the great oportunity to meet and spend time with our outstanding international speakers: Paul Orwig - president of Open Source Matters and David Hurley - Joomla! Community Development Manager both from the U.S. - Guillermo Bravo (aka Willín) from Chile, and Gretel Gutiérrez from Mexico.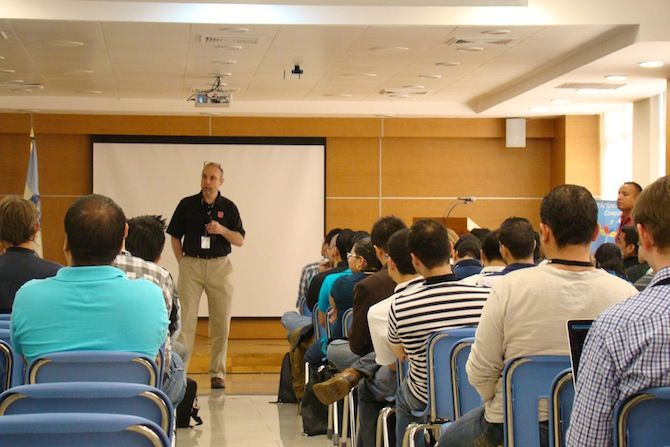 Paul Orwig, president of Open Source Matters, welcoming the participants
Expanding the community
This year we had many improvements for the local community. One of the most promising is the rising interest in creating a second JUG in our country in the city of Jalapa some +2hrs way from Guatemala City. They have plans of hosting the first Joomla Café during the month of May. JUG Guatemala City is also organising new workshops and conferences, to keep the Joomla! spirit pumped through the year while we wait for Joomla Day Guate 2014.
It was also great to receive a delegation of four students from Costa Rica. They are IT enthusiasts and managed to finance and make their way to attend our Joomla! Day. The best part is that they are now eager to start organising the first JUG in Costa Rica. We wish them our best on their endeavour, and we hope we can attend Joomla! Day in Costa Rica soon. So the family keeps growing...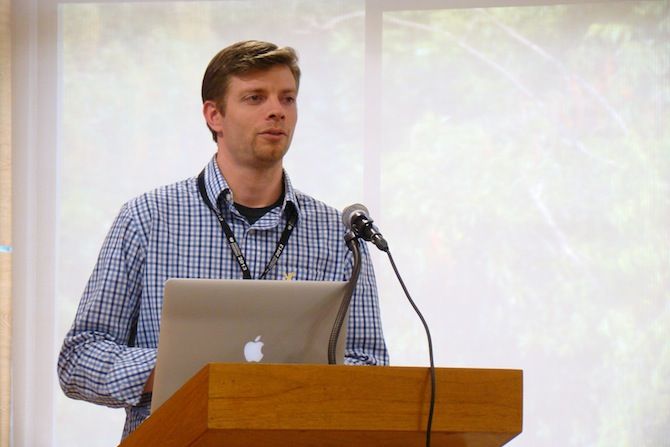 David Hurley, Joomla! Community Development Management, is inviting people all over the globe to participate in the Joomla! Community
Thank you OSM
Our Joomla! Day was special thanks to the attendance of folks from Open Source Matters, Production Leadership Team (PLT) and Community Leadership Team (CLT) and for that we are truly thankful. Their participation forced us to rise to the challenge. We are delighted with the path that Joomla! has taken since the Mambo days. We are specially proud of Joomla! 3, the first 100% responsive CMS that's helped drive us into the forefront of mobile and tablet optimized web design.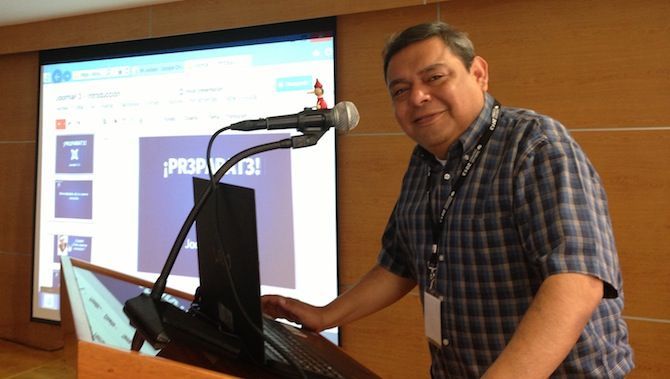 Guillermo Bravo (Willín) and his famous Pinoccio introducing us to the new features of Joomla! 3
Looking into the future of Joomla! and the community
We are sure that Joomla! will continue driving us into the future because the community that powers it is highly committed. All of us (together) are making sure this community continues to grow as we get more people involved. This is the reason JUG's and Joomla! Days are so important. We can look back to 2005 when Joomla! was just born and see the path we have walked together during close to 8 years. During this time Joomla! has been a tool that has enabled so many people around the world to earn a living. However, driving this tool, is a community that becomes stronger and more experienced each day.
The best part of Joomla! continues to be the people and the friendships.
If you haven't joined a local community, this is your time! Joomla! is waiting for you. The community can help you empower your projects all the while you create new and solid friends. Join, share, and learn, by following the example of the JUG from Guatemala!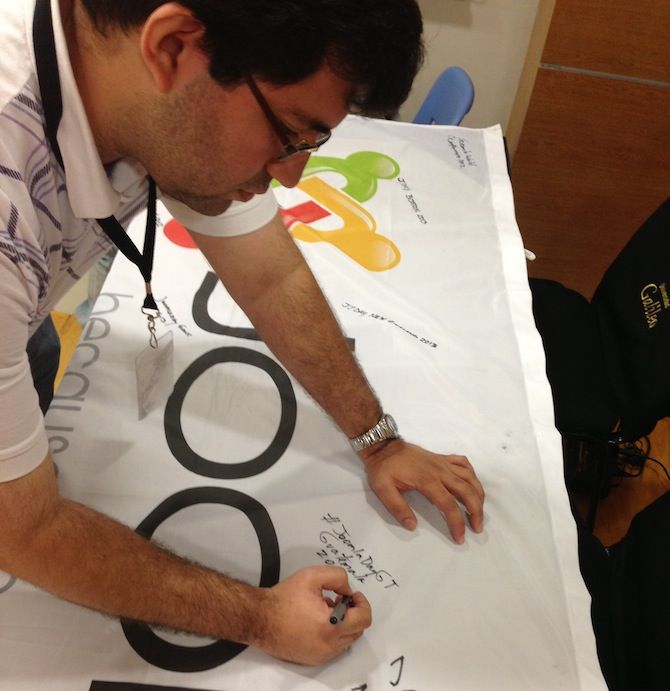 Leonel Canton signing the Joomla! Day banner for Guatemala JUG - the banner is being signed at every Joomla! Day around the globe