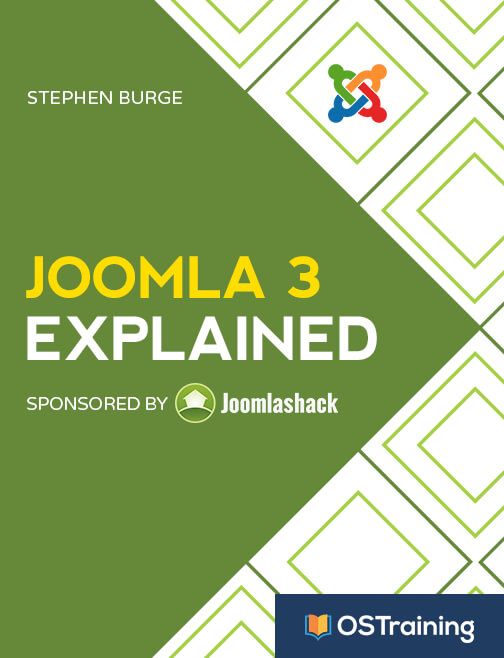 The Completely Updated Joomla 3 Explained is Here and it is proudly sponsored by us.
Joomla 3 Explained is the best-selling and best-reviewed guide to Joomla 3. This is a completely new version of the book, updated for 2017.
The book covers all the new features in Joomla 3.7, including custom fields.
Using Joomla 3 Explained, you can master Joomla 3 by using step-by-step examples.
The book walks you through a complete site-build, using a city called "Joomlaville". You start by planning the site, then you build out content and fields, before moving on to templates, extensions and site management.
Joomla 3 Explained has been used by 10,000's of readers, from individuals learning on their on, to students in university courses and Joomla Day classes.
How to buy Joomla 3 Explained
At the moment, Joomla 3 Explained is only available at OSTraining.
Yes, the launch is a little unusual, but I'd ask you to read this post about the OSTraining Book Club. With your support, we can ensure more books like this are available for open source projects.
In the coming weeks, it will also be available from Amazon and other book-sellers.
Technical details for Joomla 3 Explained
Joomla 3 Explained is over 250 pages long, and covers 15 chapters of material:
Joomla Explained
Joomla Planning Explained
Joomla Installations Explained
Joomla Sites Explained
Joomla Content Explained
Joomla Content Editing Explained
Joomla Fields Explained
Joomla Menus Explained
Joomla Components Explained
Joomla Modules Explained
Joomla Plugins Explained
Adding Joomla Extensions Explained
Joomla Templates Explained
Joomla Users Explained
Joomla Site Management Explained