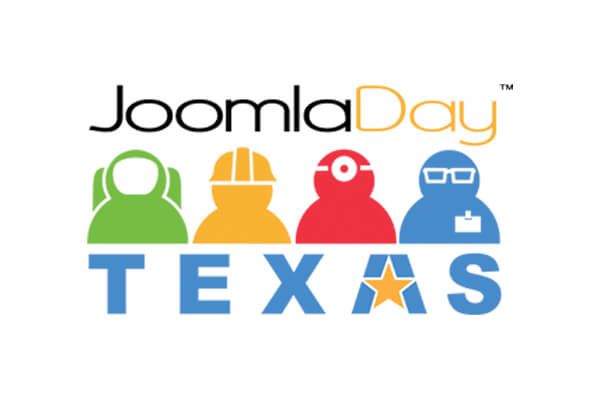 We are pleased to offer a whopping 50% discount for tickets to Joomla Day Texas 2018.
The event will take place in Houston this Saturday, April, 28.
Whatever your level of experience with Joomla, you will find a session catered just for you.
They are divided into two pathways: one for beginners, and another for intermediate to advanced users.
Sessions for Joomla Beginners
Planning & Setting Up Your Joomla Business Website. Rod Martin will teach you how to properly plan your Joomla site. Then you will learn with him how to get it installed and start building a business site.
Overview of Joomla Backend & Adding Content. Your newly installed site administrator panel may look intimidating to you at first. Alexis Priddy will help you to quickly become comfortable with it. She will even guide you to creating a few content articles using it.
How Templates Work & How to Change or Customize Yours. Attend this session to take a crash course on Joomla Templates with Jason Nickerson. You will learn how to customize your site Joomla template to fit your business brand.
Securing & Backing Up Your Joomla Website. Your site is up and running now. It's time to back it up and harden its security. Doug Deitel will teach you how you can do that with the award-winning and user-friendly Akeeba Backup and Admin Tools extensions.
Optimizing your cPanel & WHM Server. Your Joomla site runs on a web server. In this session, Benny Vasquez will teach you how to make the most of your web server by optimizing you hosting cPanel and WHM.
Sessions for Intermediate to Advanced Joomla Users
Connecting to Outside Databases & Visualizing Data with Fabrik. Have data in a separate database you want on your Joomla! site? Fabrik has you covered! Learn with Robbie Adair how to create a connection to other databases in minutes and more.
The Future of Web Design. In this session, Jason Nickerson will take a look at technologic advancements and design concepts that will drive the web into the future.
Operational Systems for Non-profits -- CiviCRM on Joomla. Focusing on non-profit businesses, Bruce Moore will talk about how the Joomla permissions system when used with CiviCRM can satisfy complex user requirements where Wordpress totally fails, and Drupal is overwhelmingly complex.
Customize Your Site with Custom Fields. Using a real-life example of a music band website, discover with Adam Melcher how a music player, set list, events list and more were created using only articles and custom fields. Whether you are a beginner Joomla user or a seasoned developer, you will walk away with a better understanding of just how powerful custom fields can be for your next project.
Work Smarter not Harder. Alexis Priddy will help you learn how to make the process of building Joomla sites much easier. At the end of this session, you will know how to create a fully configured site to clone and use as a base for new sites. You will learn how to find the best mix of extensions, how to build an internal knowledge base of problems you have solved for future reference and more.
The Event Location
Joomla Day Texas 2018 takes place in the Norris Conference Center, Westchase, 9990 Richmond Ave., Suite 102, Houston, Texas 77042.
What's Next?
Register for the event using coupon OSTraining50off now and enjoy a saving of $37.50.