HURRY TO VOTE BEFORE MONDAY, OCTOBER 20th!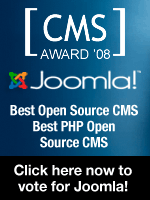 It's time for the third annual Open Source Content Management System Awards.
Last year, over 18,000 voters and a panel of judges named Joomla the best PHP open source CMS. Joomla lost to Drupal for best overall open source CMS. But that was before the release of Joomla 1.5.

Voting has begun for the 2008Open Source CMS Awards. Joomla has again been nominated in two categories:
To vote for Joomla in either of these categories, click on the links above and then click on the links for Joomla. The "vote now" button is at the bottom of the description.
At stake are bragging rights and $7,000 in prize money for the Joomla Project. So go vote!