Updated August 5, 2008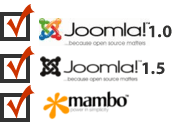 Looking for a great template to use on your new Joomla 1.5-powered website?
Joomlashack now has NINE Joomla templates that are "1.5 native" and ready for you, and more on the way!
Our latest template is Earthblog, a 1.5 only release.
Last month we released Relevant, also a 1.5 only template.
MyTemplate (for use with our new Template Builder), Aqualine, Weblogic, Vintage, Aqualine Noir, Lightfast, and Simplicity work with both versions of Joomla.
If you already own one of these templates, log into your Shop account and you'll find a 1.5-ready version there for you to download.
Want to keep tabs on the next Joomlashack templates to be updated for Joomla 1.5? Join the discussion in our forum!