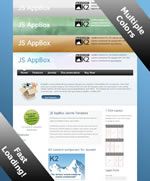 What is JS AppBox? A killer SEO, fast-loading template ready and waiting to style some of the best extensions available in the Joomlaverse.
AppBox is a native Joomla 1.5 template built to visually integrate Joomla and three of its best extensions: K2, Kunena Forum, and the must-have JomSocial.
Not yet familar with K2? K2 is the powerful content component that gives you enormous flexibility to place and display your content differently than your typical "out of the box" Joomla layout style. Learn more about K2 and AppBox.
JS AppBox is a web 2.0 template optimized with raw SEO power and easy style integration with best-of-breed tools to make your site engaging and sticky.
Check out these many features:
All personal information you submit is encrypted through our secure checkout. We do not store any credit card information.
Built on our powerful CSS grid framework, flexible layouts and modules, JS AppBox makes a perfect template for business and organizations looking to rank high and convert high.