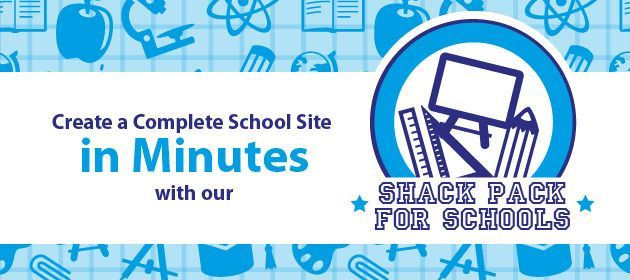 Attention School Website Admins
You already know that building a Great School Website is challenging. Let the Shack Pack for Schools make it easy for you. Our team of Joomla experts (some of whom are former teachers themselves) have put together all of the tools, content, and structure you need to get started - - all in one easily installed package!
Whats Included in the Shack Pack?
Instant Joomla installer to create the full example site with content and structure. You'll start with a site that looks exactly like our "Shack Pack for Schools" demo.
Extensions - Several useful extensions have been included, configured, and installed including 3 top selling Joomlashack extensions worth $72 and another 4 top-rated and free Joomla Extensions!
Our best selling, Responsive, and Bootstrapped Impacto and ABC templates, a $72 value with four color packs included!
For just $69, you'll get a complete school website ready for your immediate tweaking and configuration.
Get the Shack Pack for School Websites

More than Content, Structure, and Design: 7 Extensions Too!
Besides the content, menu structure, and instant configuration, as well as the $72 Impacto and ABC template, you'll get these excellent Joomla tools. That's $72 worth of commercial extensions, plus some of the industry leading free extensions, all installed, configured, and ready for your tweaks and changes!
It's Multilingual Too - También es multilenguaje
Your school website needs to be multilingual and we worked this out for you too. Look at the top right hand corner of the DEMO and you will see the "español" / "english" options.

The Shack Pack installs on your Joomla-ready server in a few easy clicks.
Invest $69 and you'll be many hours closer to having your school website up and running AND looking professional. The Shack Pack for Schools is thousands of hours of Joomla expertise and experience squeezed into a single downloadable file.
Get the Shack Pack for Schools Today - a great value at $69
Dont know how to use Joomla? No problem, we are Joomla Training Experts.
You may not be aware that Joomlashack is home to the world's most popuar online training site for Joomla: Joomlashack University. We have successfully taught thousands to build professional Joomla sites since 2009. We do this through a collection of easy-to-follow video tutorials.

Special Shack-Pack and Joomla Newbie Promo
When you purchase a Shack Pack for Schools, you can get 20% off your entire order if you also purchase a subscription to Joomlashack University. Place the Shack-Pack in your cart and add the subscription of your choice: 1 month for $25/month; 6 months for $99, or Lifetime for $399.