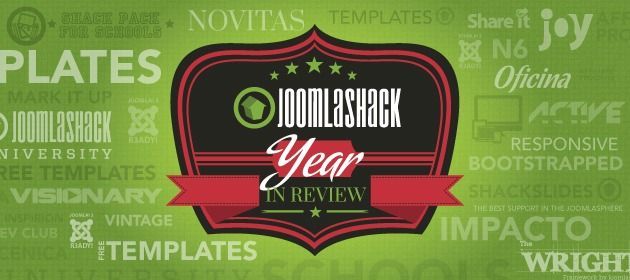 A time to reflect
2012 has been the busiest year in the history of the Shack. When putting together this review, I was amazed to see just how many products we worked on and released during 2012. It is a testament to the great work this small but highly capable team was able to accomplish and it deserves well-deserved praise. We released more Joomla Templates than every major template company.
We released as many free Joomla Templates during 2012 as we did during our first 6 years. We now have 5 free Joomla 2.5 Templates including one free responsive Joomla 3.0 Template built with Wright.
With Memo to be released this week, we launched 20 templates and updated over 30 to Joomla 3.0. Just imagine what a great value this represents to our Developer Club members. We now have 6 responsive and bootstrapped Joomla Templates too. Two separate 6-in-6 Challenge events, one in February and one in August, also pushed our team harder than ever.
Use our Demo Template Gallery to browse all our Joomla Templates.
With the release of Joomla 2.5 in January and Joomla 3.0 in September, 2012 became a monumental year for the Joomla community. The features and added functionality that these two updates brought to our beloved CMS easily makes it "the best CMS in the world." We are very grateful to the Joomla community for the sleepless nights and TLC (tender loving care) that went into these updates.
In anticipation for the release of Joomla 3.0, we launched v3 of our own Wright Framework in August now updated to be Responsive and Boostrapped. This new version of Wright continues to be the lightest Framework in the world: SEO-friendly, bloat-free, and quick to load.
First released in 2007 the Shack Pack for Schools has been used to build successful school websites the world over. Re-released using the Wright Framework v3 and bringing together a wonderful group of best selling and favorite Joomla Extensions, the Shack Pack for Schools is back and with a vengance. It now comes with 2 templates and 7 extensions all preconfigured with a quick Joomla installer, all for $117.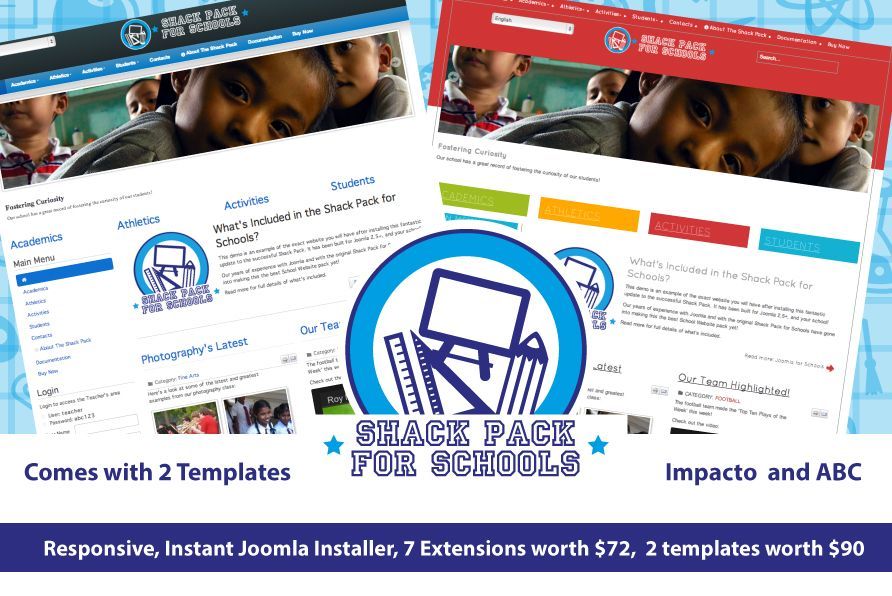 This year, our team updated to Joomla 2.5 and then again to Joomla 3.0 all of our Joomla Extensions. We launched Share it a Social Media Plugin and Visionary Image Manager & Slide Show. We also added cool functionality to Lifestream.
2012, was also the year we proudly launched our SEO College. After years of helping you build better sites, we decided to help you get your sites found in search engines as well as increase your conversions of more qualifies leads and customers. Dan Maynard, the Director of the SEO College has done a great job (and continues to do so) putting together this broad selection of courses and lessons.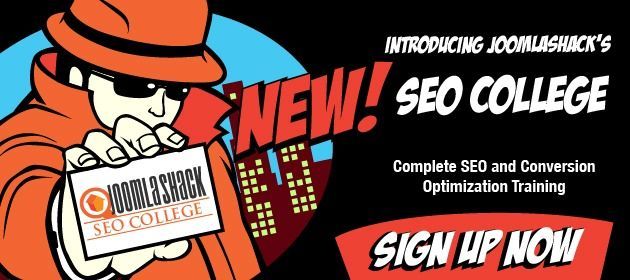 The world's first Joomla World Conference was held in November 16-18 in San Jose CA at the Ebay Town Hall and we were proud to support it, participate as speakers, and as Gold Sponsors.
Merry Christmas and Happy Holidays
On behalf of the Joomlashack team, we wish you a 2013 full of blessings and prosperity. We look forward to the new year as an opportunity to keep providing you with some of the best Joomla Templates, Extensions, and Training.