The World's Fastest Joomla Template
Introducing the fastest template in the world!
From our popular Joomla template tutorial series, we are proud to announce that CSSTemplateTutorial2 clocks in at under 30KB, making it the fastest joomla template in the world!
And its free!
Check out the load times for the CSSTemplateTutorial2 compared to other templates: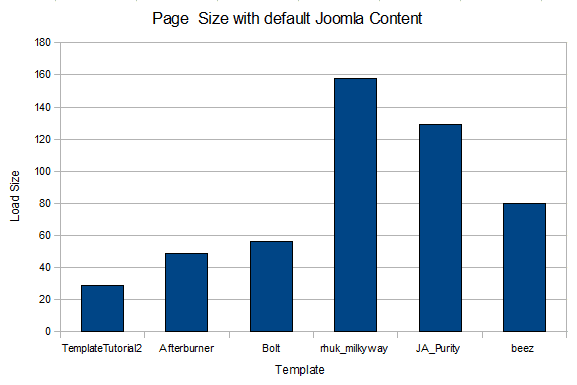 OK, so this isn't exactly a serious production template. As some have said on Twitter, its actually really easy to make a really fast template in just a few easy steps:
Include hardly any images
Cut out mootools.js that the Joomla core loads
Have very little CSS and compress it so its unreadable
We actually did all this back in 2007 when we released a series of 4 pure CSS template for Joomla 1.5. They were part of the freely licensed template tutorial chapter from Joomla 1.5 - A User's Guide. The goal was to have several templates that were bare-bones and slowly layered a more complex template step by step.
The 2nd of the 4 templates features a pure CSS layout: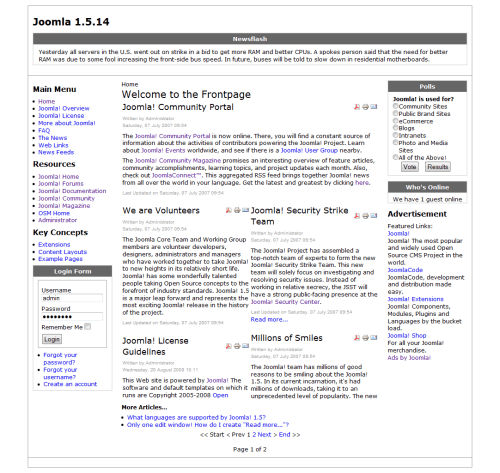 Not that exciting, but its FAST.
So why the post about fast templates? Well, there has been a trend recently to tout super-fast loading templates, and a connection is being made that a fast template is good for SEO.
And it is.
But that's not close to being the whole picture.
Joomla Template SEO
First we need to start by looking at SEO. There are hundreds of factors that contribute to SEO. Yes, load speed is one of them, but there are others. We wrote the book on Joomla SEO in 2006 and have a selection of powerful SEO template features like:
Super lightweight code framework - Loads faster
Powerful grid framework - Easier for search engines to read
Source ordered content - Important copy read first
Valid HTML overrides - Indexed better by spiders and better H1/H2 recognition
Logo image replacement - SEO text read instead of a logo image
Pure CSS menus - no javascript indexing problems
Even after SEO has brought the visitor to your site, you still need to convert them.
Templates that Convert
To convert visitors, your site has to be credible.
"When a site lacks credibility, users are unlikely to remain on the site for long. They won't buy things, they won't register, and they won't return" (Stanford-Makovsky 2002).
What makes a site credible? In the same study Stanford/Makovsky found that the "Design Look" or the site's overall design or look accounted for 46% of a site's credibility. This included layout, typography, white space, images, color schemes, and so on.
To us that means clean looking templates that will load quickly, look professional, but not be bloated with eye candy.
The study also talked about the importance of usability and accessibility. We have talked before how features that support these tend to be very similar to those for SEO.
So a Joomla site that converts is one that has a strong foundational SEO template, careful attention to aspects of usability and accessibility, and a clean professional design look that doesn't overwhelm.
And don't forget the King - your all important content!
And Now the Good Part...
It just so happens, that if you are looking for a great template that balances design credibility with powerful SEO features, your luck is in. We have been hard at work in the Joomlashack labs building the next generation of Joomla templates. Yes, it use a framework (another popular trend), but one that's laser targeted on simplicity, SEO and web standards.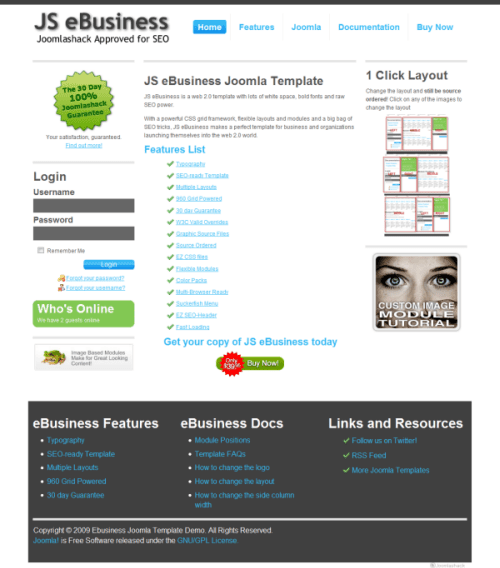 Keep checking back with Joomlashack often for when JS eBusiness goes on sale, or sign up for our newsletter below (we'll be sending out a discount via email!)