Do you need to upload files or change permissions on your Joomla files? Are you stuck because you don't have easy access to your files? eXtplorer is the solution.
eXtplorer provides file management from inside the Joomla administrator area. It's a Joomla version of the open source file manager also called eXtplorer.
This tutorial is a short introduction to eXtplorer to show you how easy it is to use.
Step 1: Install eXtplorer
Download eXtplorer from https://extplorer.net/files.
Login to your Joomla site and install it from the Extension Manager.
Access it from your Components menu.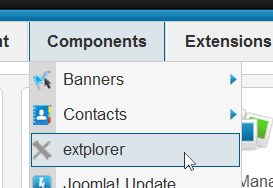 Step 2: Navigate eXtplorer
On the left of the screen is the folder directory tree. Double clicking a folder name opens the list of files in the screen on the right.
On the top of the screen are the action buttons. Select a file and click the button you need to use.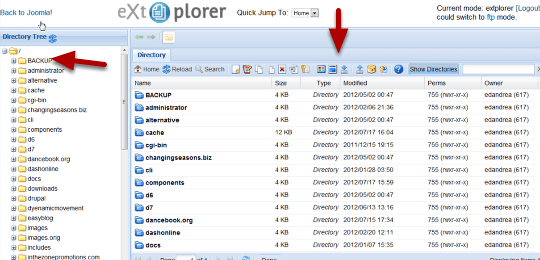 Here are the buttons across the top of the screen:

The toolbar gives you all the functions you need for file management.
New File/Directory
Edit
Copy
Move
Delete
Rename
CHMOD (Change Permissions)
View
Diff
Download
Upload
Archive
Extract
Step 3: Editing a file with the text editor
Double Click a file name (not a folder).

The file you clicked will open in an editor.
The editor that is included is very handy for making quick edits to any file on your server. It has all the features a basic script editor needs.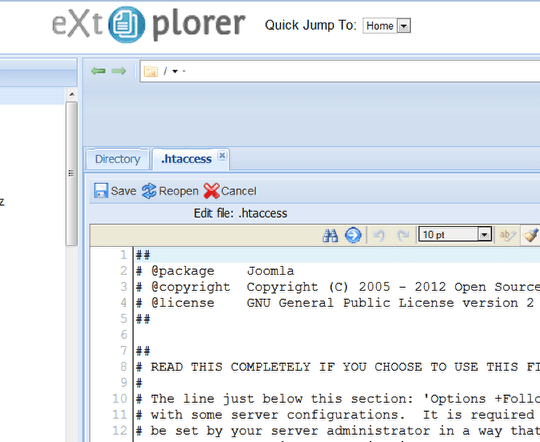 Step 4: FTP mode and Uploading Multiple Files
At the top right of the screen you can click the ftp link to use an FTP client to upload multiple files.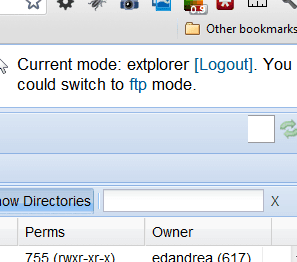 You'll get this dialogue box to enter your FTP credentials.

Step 5: Back to Joomla
At the top left of the screen there is an exit link that says "Back to Joomla!" Be sure to use this link if you have more work to do. Closing the window will log you out of Joomla if you don't need to return to the administration.