Last week, the Joomla project voted in favor of a major reorganization.
Several people have asked us about this change, but we could never find a simple, plain-English explanation of what was happening.
So, for those of you have been too busy to follow along, here's what's changing with the Joomla project.
How was the Joomla project organized until now?
There are three groups in charge of the project:
Open Source Matters, which handled legal and financial issues.
The Production Leadership Team, which was in charge of code.
The Community Leadership Team, which ran the Joomla community, events and family of websites.
Each of these groups had about 9 members, so there were 28 people in leadership positions.
Each group had clear authority of their individual areas, but problems arose over topics that didn't clearly fall within the remit of a single group. There were no clear lines of authority to resolve disagreements or broader issues. Additionally, each of these groups operated independently, with its own decision making process and methods for electing members.
How will the Joomla project be organized after this change?
The three groups will merge together into Open Source Matters.
There will now be a single board with 11 directors. Each director will have a specific role, whether it be Production, Legal, Marketing, Events, Operations, Secretary, President, Treasurer.
There will also be an Ombudsman to oversee the board. The Ombudsman would provide an oversight and appeals function, and also watch for conflicts of interest.
There will also be a Board of Advisors to provide guidance. The Advisory Board would consist of 3-9 people and would have no voting power.
Here's a visual overview of the new structure: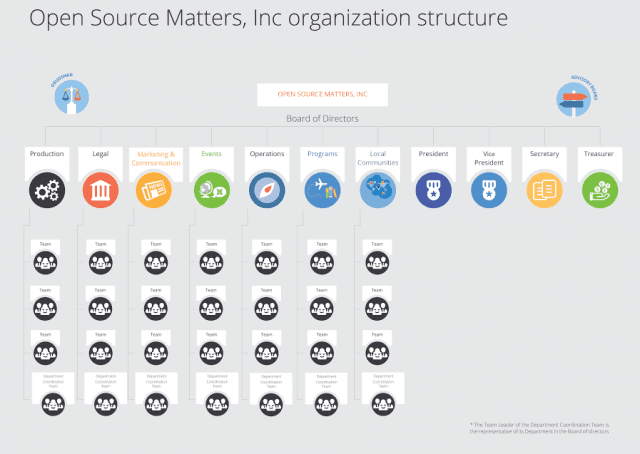 If you're feeling brave, click here to read the full 45-page proposal.
Was this the right decision for Joomla?
Probably, yes. In the end, the vote wasn't particularly close. There were objections raised, but two-thirds of the current leadership members were in favor. I spoke with with several people with experience in running large projects and companies was in favor.
This change brings Joomla into line with many other open source projects that are run by a single, central body. Think of the Fedora Council, the Drupal Association and many others. Here is a long list of foundations that lead or steward their projects.
In short, Joomla is moving from an ad-hoc system that developed by accident, to one that is much closer to today's understanding of how open source projects should be run.
The major challenge, and the centerpiece of several people's objections was the challenge of transition. It's never easy to carry out a reorganization of this size. There will be a lot of moving pieces involved in this change and it will take several months to complete.
Thanks to everyone to worked on or debated this reorganization, and our best wishes to those carrying it out.