Update: Weblinks is now on the JED, not in the Joomla core.
This week one of our members was planning to hold an event.
They had a long, complicated URL from their events provider and wanted to replace it with a short, simple link.
In this tutorial, I'll show you how to replace external URLs with great looking links from your own site.
This technique can not only be used to create short URLs, but you can use it to run an affiliate program. If you put affiliate links through this technique, you can disguise the links and also record how many times the links are clicked.
First, go to Components > Weblinks > Categories.
There will be at least one category. The default is called "Uncategorised".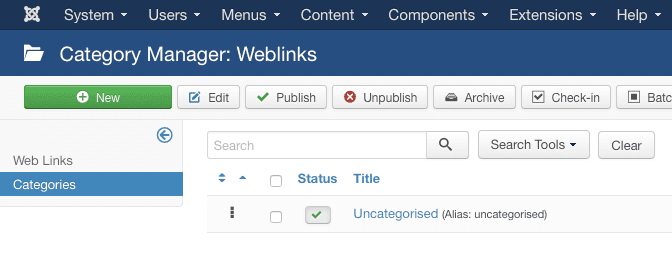 Rename the "Uncategorised" category so it has a simpler name. "Go" is a good option, and so is "Out" or "Link".

Go to Components > Weblinks > Web Links.
Click "New".
Enter your external menu link in the URL field: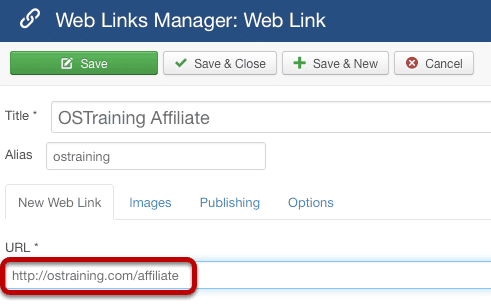 Here's how your new weblink will appear, after saving:

If you don't have a menu link to your Weblinks, go to Menus and create one now. Ideally, create a "List Web Links in a Category" link to your new category.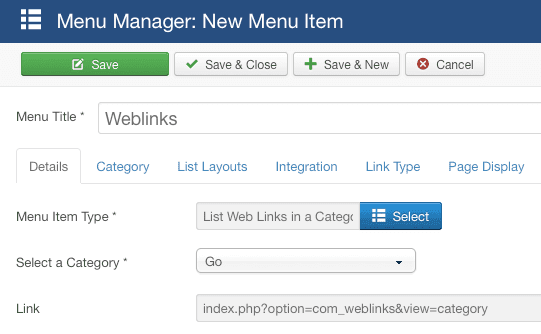 Visit your new menu link.
You should now see the new weblink that you created. Hover your mouse over the link and you'll see your new, short, clean URL.