Nominations extended to December 8th!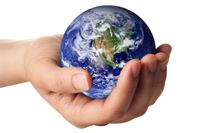 Has there ever been a time when non-profits needed our support more?
The world's many problems- dirty water, hungry children, oppressed people, forgotten animals- are often only solved by the dedicated volunteers and staff of our non-profits and NGOs. In a time of darkness, these organizations make the world brighter.
Announcing our 3rd Annual Charity Contest- where our community nominates and chooses a deserving charity to win a 1,000 USD cash donation.
Discuss the charity contest in our forum!
How the Contest Works
Using the form below, please nominate a deserving charity. We'll review all eligible entries, and then announce five finalists sometime in Mid-December. We'll then ask customers and visitors to financially support each organization directly, and then vote to pick the most-deserving charity to win a the 1,000 USD contribution.
Nominations will be accepted until Midnight (GMT) on DECEMBER 1ST 2008. December 8th!

Across the globe, there are thousands of deserving charities that feed the hungry, house the homeless, heal the sick, and tackle the world's social, environmental, and economic injustices. We know because members of our team have founded, led, and built websites for several effective NGOs here in the U.S. and in the UK.
While Joomlashack is a for-profit venture, serving our communities- online and at home- is a core value and life-long endeavor of our team members and company.
Successful organizations rely on communities of volunteers, donors, leaders, and supporters to achieve their missions. While not a charity, Joomlashack is no different. We depend on our community of customers, forum users, and visitors to be successful, too; a community of over 120,000 people across the planet. In the season of giving, this contest is one small way for us to give back.
Now Joomlashack is asking its community to help us bring attention to five effective and essential charities, and to offer one of them much-needed attention and resources.
Nominate a Deserving and Eligible Organization Today
Eligibility Rules:
To be selected as a finalist, each nominated organization must meet the following criteria:
Registered and lawful charitable organization capable of giving a charitable tax exemption to donors (In the US this means 501c3 eligible).
An annual budget of less than $1 million.
Runs successful programs in support of a positive, peaceful, and charitable mission.
Contest Rules:
Staff, volunteers, and supporters of organizations are allowed and encouraged to nominate their own organizations. However, one nomination per organization is plenty.
No nominated organization will be chosen as a finalist without its written consent.
To nominate an organization you have to give Joomlashack a working email address. You may receive further information about the contest and/or Joomalshack products and services via email later. You can easily unsubscribe from any communications at any time.