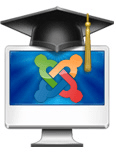 The much anticipated launch of our interactive learning environment for Beginner Joomla, Joomlashack University, did not disappoint last week. In less than 24 hours we sold out all 100 seats in the inaugural Shack U class of October 2009- and then some!
Joomlashack University is our attempt to make learning Joomla online a fun, interactive, affordable, and "at your own pace" experience. Instructors Forest Linden and Barrie North are guiding the first class through the very basics of getting a Joomla website installed, set up, and built with compelling content.
We're limiting the number of beginner students in our "Charter Class" to keep "class size" small, so we can lavish attention on our students and get the curriculum right. Sometime soon we'll re-open ShackU and let another class of eager online learners in!
Not-so-future plans include expanding our "course" offerings into more advanced Joomla skills, and how to run an e-business on Joomla.
Want to be the first to learn about the next offerings from Joomlashack University? Give us your email below, and we'll give you exclusive first looks later this fall!