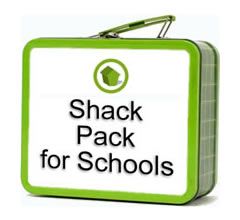 School Websites are challenging. Why not let the Shack Pack for Schools make it easier?
Back in 2007 Joomlashack released its first Shack Pack for Schools, built for Joomla 1.0.x and sporting our free Education template.
Now we're back with a new Joomla 1.5 version completely rebuilt to work with our Inspirion template, and stuffed with several outstanding extensions!
School Website Admins: the Shack Pack for Schools saves you many hours of research, fiddling, and Joomla configuring.
Our team of Joomla experts (some of whom are former high school teachers and administrators) have put together all of the tools and content you need to get started- all in one instant install package!

What's included in the Shack Pack?
Instant Joomla installer to create the full example site with content, several free and useful extensions, and relevant content. You'll start with a site that looks exactly like our "Shack Pack for Schools" demo.
Our Inspirion template, a $47 value with seven color packs included!
Access to our forum for Educators using Joomla where your questions can be answered
For just $97, you'll get a complete school website ready for your immediate tweaking and configuration.
More than Content, More than Joomla: Extensions Too!
Besides the content, menu structure, and instant configuration, as well as the $47 Inspirion template, you'll get these excellent Joomla tools installed and configured:
AllVideos plugin for easy video configuration and display
All installed, configured, and ready for your tweaks and changes!
Shack Pack for Schools installs on your Joomla-ready server in a few easy clicks.
Spend $97 and you'll be many hours closer to having your school website up and looking professional.
Shack Pack for Schools: thousands of hours of Joomla expertise and experience squeezed into a single downloadable file.
This item is currently unavaliable!