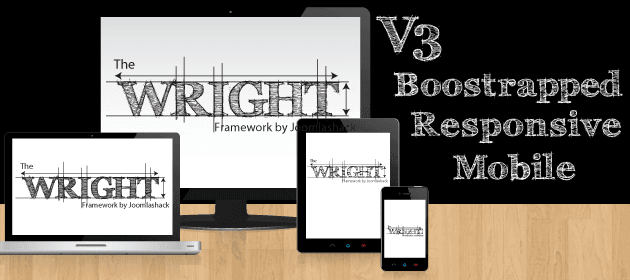 At the beginning of our current (insane) 6-in-6 challenge we hinted at our endeavors to update our Wright Template Framework.
We've got some very exciting news to share with our wonderful Joomlashack community, and the rest of the Joomlasphere.
RWD, Joomla, and Joomlashack
Many of our readers may be aware of Bootstrap from Twitter, the concepts of RWD (Responsive Web Design), and the Joomla User Experience group's current (and rapid) work to give Joomla a much needed user interface update in Joomla 3.0, which we wrote about back in May.
Last week was very exciting for us, as Joomla 3.0 Alpha 2 was released, bringing us closer to a new version of Joomla that will provide the Joomla Community with the first and only CMS that is fully mobile ready 'out of the box'.
To add to the excitement, we're happy to announce that later this week we will be releasing Wright v3, with full bootstrap support, making it fully responsive and mobile ready!
RWD is not new, but for those who are not familiar with the term Responsive Web Design, we'll leave the full descriptions and studies to the myriad of writers who've blessed the internet already (with some links below), and provide this quick summary:
It's mobile ready
It's here and now
It's the new hotness (thanks Kyle)

For a bit more on what this means, here's a look at a couple of our favorite resources:

And some samples from Inspirationfeed: 60 Examples of Responsive Website Design
So what does all of this mean to our

Joomlashack

customers?
With the release of Wright v3 all new templates from Joomlashack will be fully Bootstrapped and responsive, giving you the starting point you need to present your site on any device that can access the web; desktop, tablet, mobile and t.v., at all screen resolutions, without ever having to install any 3rd party solutions to force a mobile experience, or hire anyone to create a mobile app for your site.
And here's the kicker: You won't need to wait for the release of Joomla 3 or plan to update to benefit from Bootstrap's responsive grid based framework. With a Wright v3 based template Joomlashack lets you enjoy the beneifts today!

Wright v3 will support Joomla 2.5 as well as 3.0, and will introduce a number of other enhancements in addition to Bootstrap and Responsiveness which we'll cover when we release, and it will be released free for any to use as a basis for building their own Joomla templates.
Watch for our announcement later this week!