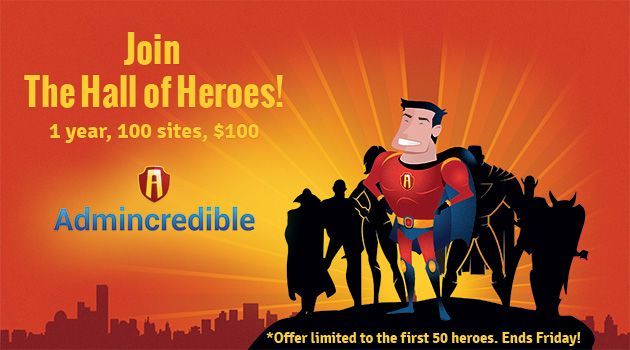 Hey there!
Admincredible is the ONE DASHBOARD to manage updates at the speed of light for all your Joomla 2.5 and 3 sites.
· Automatically update all of your Joomla 2.5 and 3 sites every time there is an update.
· Be vigilant as to how different updates might affect your Joomla sites.
· Worry less about keeping your sites safe from hackers who exploit vulnerable web sites.
A Special Invitation to Admincredible
We are happy to report that we are successfully moving along Admincredible's beta phase. Many important features are still being developed, but the beta is working reliably, and many of our testers' suggestions are finding their way into the final product, which is awesome.
We're now expanding our membership and inviting you to join Admincredible. Today we have a very special invitation to join what we are calling Admincredible's Hall of Heroes - - our Founder's Club.
Admincredible is right for you
Whether you manage 1, 5, or 100+ sites, Admincredible is the right tool for you. It is very easy to use, it is fast, and above all, it is reliable.
Admincredible was built by Joomla developers for Joomla web site builders and managers. At Admincredible, we understand the pain and importance of keeping your sites up-to-date.
A Special One-Time Deal
Join our Hall of Heroes, our Founder's Club today and help us finish testing and developing Admincredible in exchange for an OUTSTANDING One-Year Deal.
Join the Hall of Heroes for $100 and you'll be able to manage 100 sites for 1 year - - that's over $600 less than what our regular monthly membership would cost over 12 months.
Hurry! This Offer is Limited!
This offer is available to the first 50 people that sign up before Friday December 7th. Here are the details of the Hall of Heroes:
Time: You get a membership for 1 year.
Sites: You can manage up to 100 sites.
Cost: You pay only $100 for the whole 1st year, then renew in 1 year at $30 / month, more than 50% savings over our regular prices.
Legacy: You'll be part of the Hall of Heroes and will continue to obtain additional benefits, features and savings.
Don't wait, this opportunity ends December 7, 2012. Join now! Here's how:
-Register for your free Admincredible account at: Admincredible Signup
-Log in to the app and visit the My Account page.
-On the available subscriptions select the Hall of Heroes plan.
-Start monitoring and updating up to 100 sites!
We hope you can take advantage of this deal. Sincerely,
TJ Baker
Steve Burge
Eddie Tabush