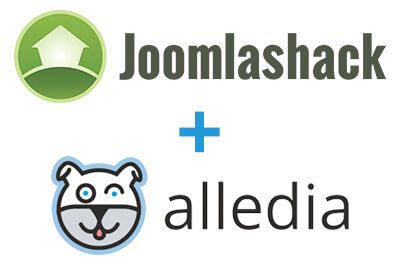 We have some very positive news for Joomlashack and Alledia.com users: we have merged Joomlashack and Alledia.
In addition to templates, Joomlashack now has a new site design, plus some of the most popular extensions in Joomla. These include JCal Pro, OSMap, OSYouTube, Tabs and Sliders and more.
This blog post is an overview of everything you need to know about the merger.
Why did we carry out this merger?
A couple of years ago, we launched Alledia.com for Joomla extensions.
In April 2016, we also took over Joomlashack.com.
So, during the last 6 months, we've been doing everything twice. We've maintained 2 brands, 2 social media profiles, 2 blogs, 2 newsletters ... 2 of everything.
It makes sense to combine and simplify our efforts. Joomlashack is the older and better-known brand, and so that's the one that will survive.
What's the purpose of the new Joomlashack?
Joomlashack is now a one-stop shop for all your Joomla needs. You'll find over 20 extensions and over 20 templates, plus training, tutorials and more.
What happens to your Joomlashack members?
They will simply get a lot better. If you were a member of our Extensions Club, you now have 400% more value. Instead of 5 extensions, you'll have access to around 20!
What happens to Alledia Pro Bundle members?
If you did subscribe to the Pro Bundle at Alledia.com, you will also get access to all the Joomlashack extensions. So you now have access to around 20 extensions! One thing to note is that the Pro Bundle is now the "Extension Club". During the merger, we adoped Joomlashack's naming system, so the Pro Bundle has been renamed.
Joomlashack University will be Joomla only
We love the web in general and our team cover many different platforms at OSTraining.com. But at Joomlashack, it's in the name ... this is a Joomla site. We have removed non-Joomla content from the site. If you're a Joomlashack University member and this impacts you, contact us and we'll set you up with a complimentary OSTraining membership.
I found a bug on the site. What should I do?
We're sorry about that. This merger was a major undertaking. Together, the two sites had over 10 years of content and over a million users. There were many possible complications. If you find a bug, please email This email address is being protected from spambots. You need JavaScript enabled to view it..
What comes next?
Joomlashack is going to get bigger and better:
We're the official training partner of Joomla.org and that partnership is about to launch
Look out for the launch of OSCampus, a new Joomla LMS
Lots of extension and template improvements are due for release
Stay tuned. The new Joomlashack is going make your Joomla sites better!