I'm delighted to say that OSMap is now available for Joomla 4.
OSMap is the most popular Joomla sitemap extension. All you need to do is install OSMap and it will do the rest. OSMap will automatically create a Google-friendly sitemap for all your content.
Version 5.0 of OSMap works on both Joomla 3 and Joomla 4. It doesn't matter which version of Joomla you're using because the same package will work on both.
---
What Has Changed with OSMap in Joomla 4?
As little as possible!
Our goal is to provide you with the smoothest possible upgrade path to Joomla 4.
Because of this, we are not using Joomla 4 as an opportunity to make big changes. In fact, it's the exact opposite. We want you to update your sites to Joomla 4 and see the smallest possible changes.
The Joomla 4 admin area looks substantially different from Joomla 3, and you will need to make some mental adjustments. We don't need to make the transition more difficult, so Joomlashack extensions, including OSMap, have the minimum possible changes. Here's a screenshot of OSMap in Joomla 4: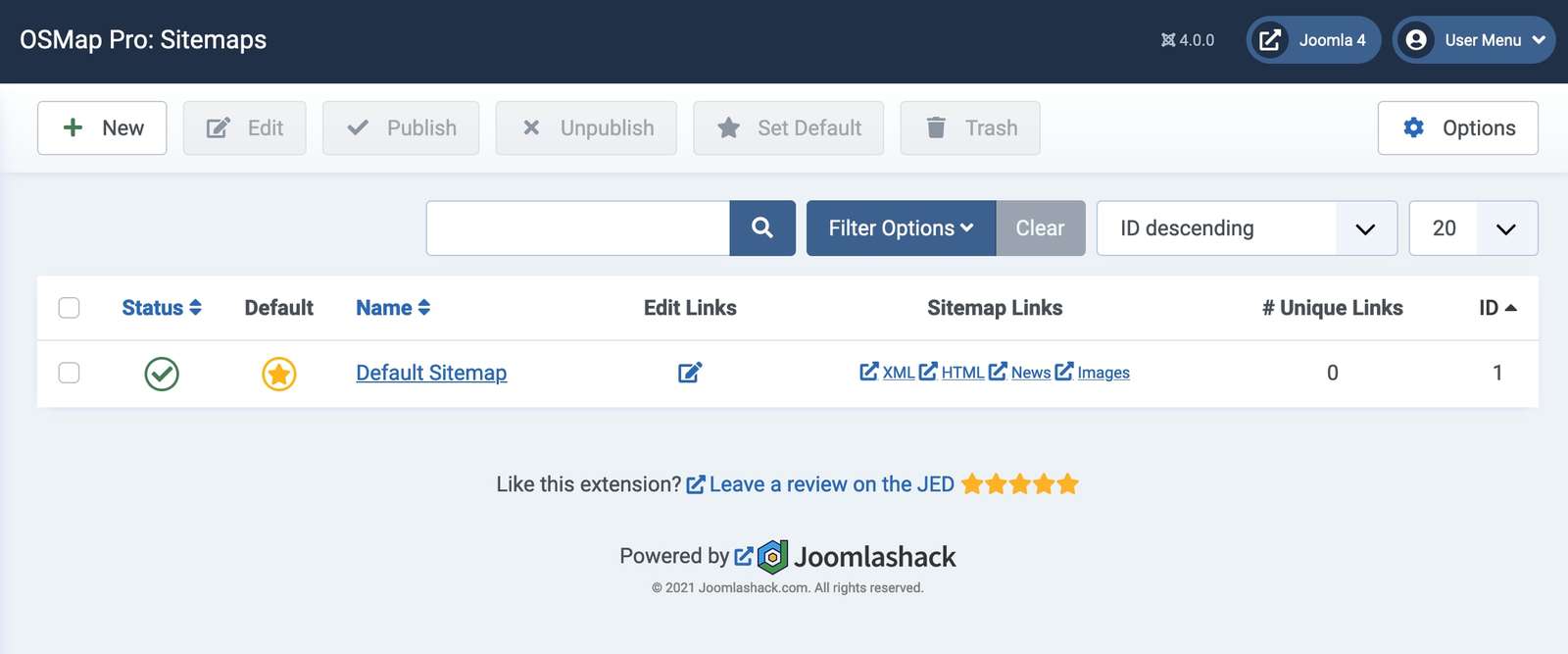 ---
You don't have to install OSMap 5.0 today
OSMap is not our biggest or most complex extension. However, it has been one of the trickiest extensions to update for Joomla 4.
This is because OSMap is very popular, and has integrations with so many extensons. We have done our best to test as many scenarios as possible and ended up releasing many beta versions and nine different Release Candidates. But we can't test every scenario and we do expect to find and fix more issues after release.
Unless you're not in a rush to start using Joomla 4 today, it's fine to wait another couple of weeks before using OSMap 5.0 on a live site.
---
Over to you
If you do find any issues in OSMap 5.0, please open a support ticket, or ask in the Joomlashack Facebook group.
If you get any value at all from OSMap, please consider becoming an OSMapPro member. Updating all our extensions for Joomla 4 is expensive and time-consuming work.
If you find OSMap useful, but you can't afford a membership, please help us by leaving a positive review on the Joomla Extensions Directory.