SEO has been a hot topic in Inbound marketing in 2013 - from Google's 100% [Not Provided] keyword to the rebranding of SEO authority moz.
With all of these changes, the future of SEO is somewhat uncertain. Many techniques will likely continue to fall by the wayside as search engines continue to combat "black hat" practices.
Nonetheless, certain best practices have withstood the test of time and will likely not be disappearing any time soon. In fact, as other tactics drop off, the tried and true become even more important in improving or preserving your ranking.
This list details those SEO essentials, and how to implement them on a Joomla! site.
URL Structure
Clean and consistent URLs make a big difference in your SEO.
In order to keep the process simple, it's advisable to simply follow a www.website.com/category/item convention.
To see this in action, just look at the URL of this blog post. You'll notice the category is "blog", and the item is the name of the post.
For many in the Joomla! world, a component called SH404sef is the preffered tool for handling search engine friendly URLs. It allows for customization of global URL settings, and can also handle redirects and meta title/description entry.
(Disclosure: SH404sef is developed and owned by the same team as jInbound.)
Titles
Page titles play a huge part in how search engines and users access your site. Your page's title appears in search engine results, and also in the user's browser tab.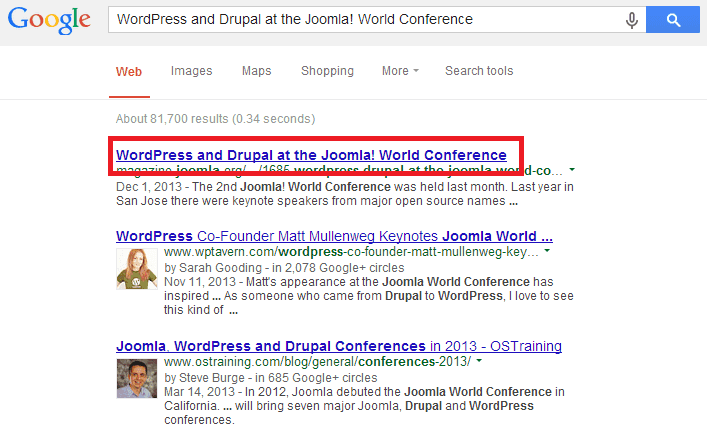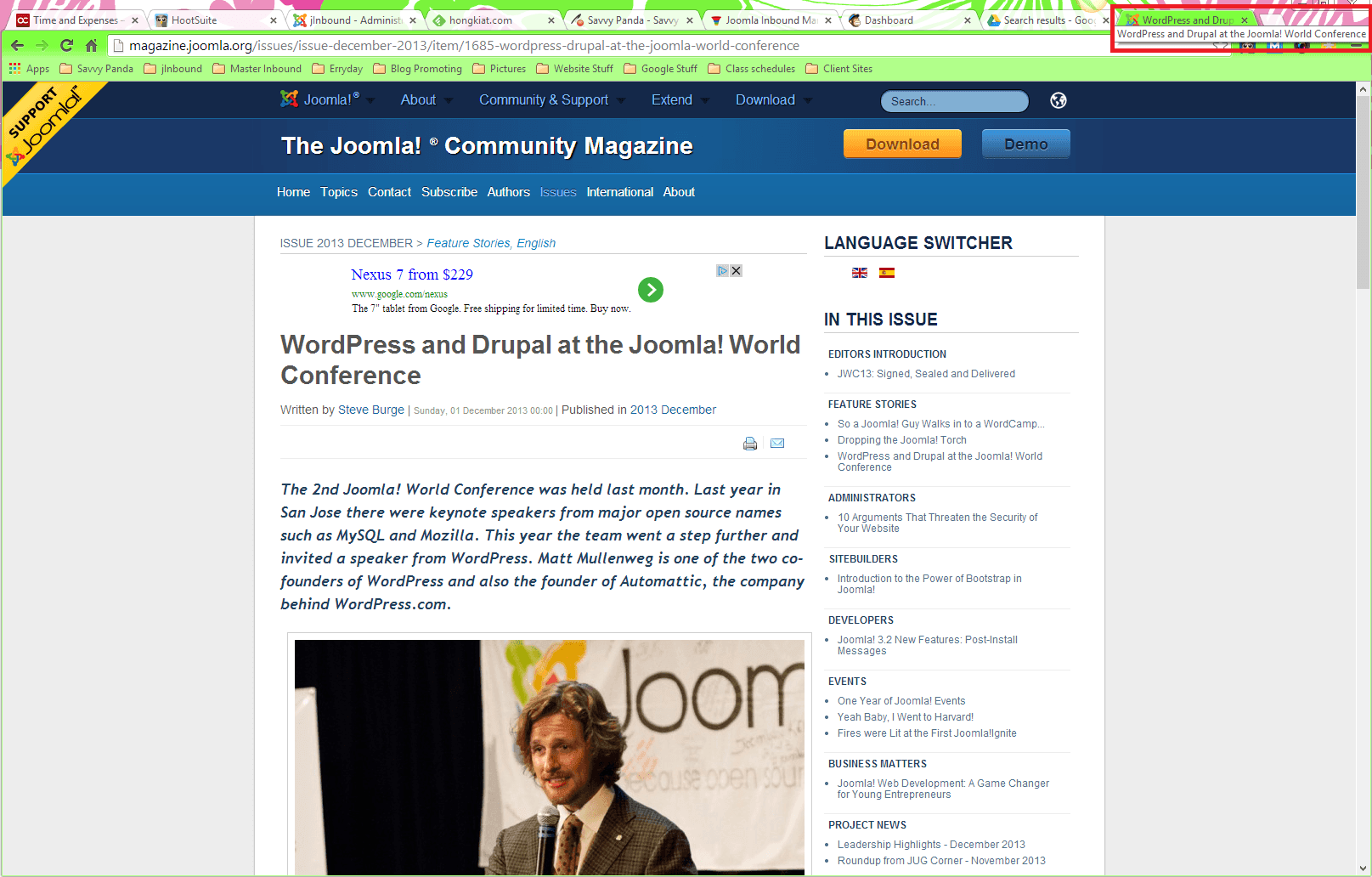 Titles are one of the most transparent ways you can tell a search engine what a page's content is about, so leverage the opportunity to (naturally) include relevant keywords.
Generally, page titles should follow the same structure as your URLs - but inverted.
Where a URL is www.dogs.com/yellow-labs/puppies, the title should read Puppies | Yellow Labs | Dogs.com.
Keep your titles concise - anything over 70 characters may be cut off in search results. You can customize your titles in the article manager of your Joomla! site.
If you need a little practice writing titles, check out this article from Search Engine Watch.
Meta Descriptions
Ever wonder how those little snippets of information show up below the blue links in search engines?
That's the power of meta descriptions!
Think of a meta description as an explainer for your page title. If your page is about making pizza, your meta should be a quick overview of your pizza making instructions, which incentivizes readers to click through.
Check out these examples:
To get the most bang for your meta description buck, keep your copy at less than 160 characters.
Just like your page title, you can include keywords in your meta description in an organic fashion.
Meta descriptions can be written in the "Metadata Options" section of a Joomla! article, or in a third party extension.
Duplicate Content
Sometimes, two is better than one (especially when it comes to slices of pizza).
But in the SEO world, two occurences of identical content are a big red flag for search engines. If Google notices multiple URLs displaying the same material, they assume you're gaming the system.
And I probably don't have to tell you they don't like that.
Check out the URLs in the Toys R Us listing below. Do you see what I see?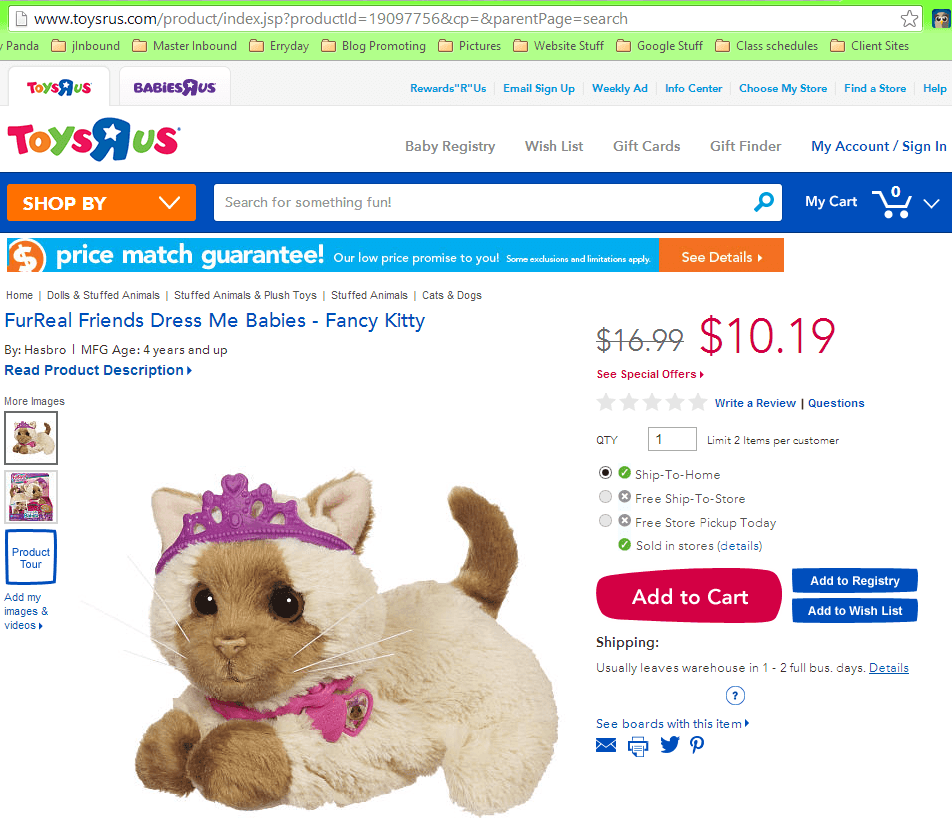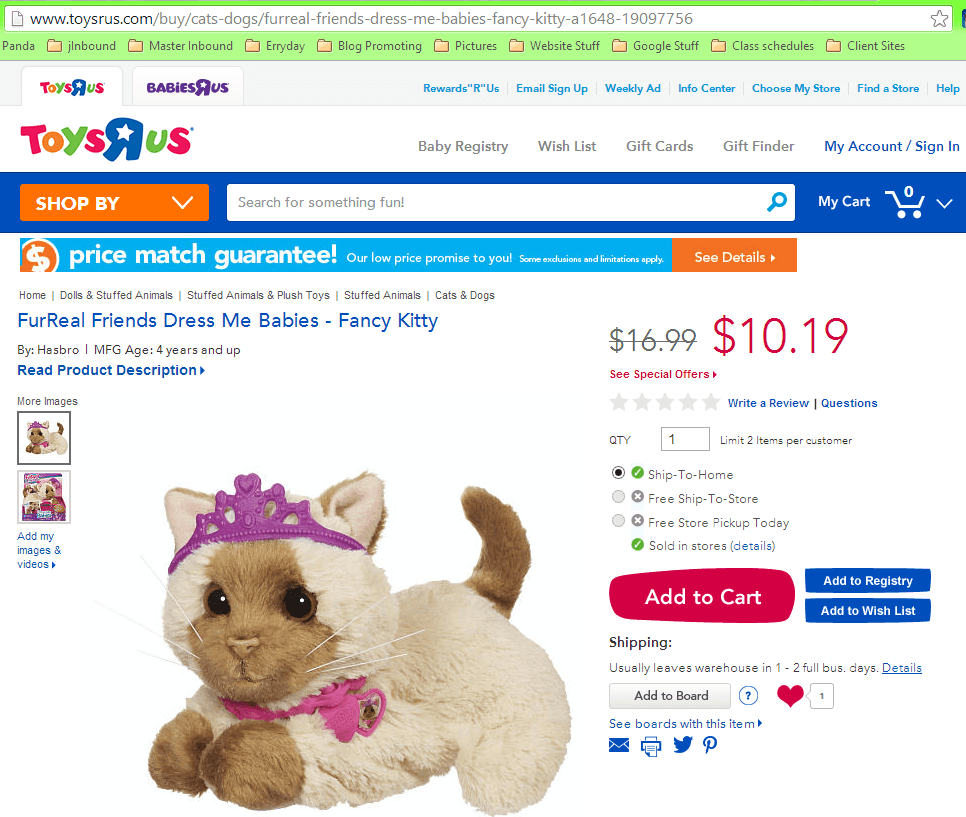 Exact same content, different URL. This often occurs when people reach the same content through different mediums.
On the first page, I found the item by clicking through a promotional banner on the site. The second, I found by performing a Google search for the product name.
Fortunately, you can identify duplicate content to Google by utilizing a rel=canonical tag. This basically alerts search engines that the content exists elsewhere, and directs the search engine to crawl only one instance of the content.
Read more about setting up rel=canonical here.

Image Alt Text
Getting your pages to rank in search engines is great, but getting your images to display can be equally valuable.
They key is to let search engines know what they're "seeing" when they encounter an image, and alt text is the way to do that.
In Joomla!, you can adjust your image alt text by editing it directly in the article. Just select the image, click the image option in your editor, and enter text which describes the image.

It can be tempting to keyword stuff here, but you're better off sticking to a few words that accurately describe the image.
Think from the user's perspective: if an image of a dog shows up in a search for a cat, it's not going to earn a click - no matter if it is result #1.
Keyword Optimization
Ah, keywords: saving the best for last.
Despite continuously increasing limitations on the keyword data marketers can access, keywords are not disappearing from the SEO tactics list.
In fact, it's hard to image a world where keywords could ever become obsolte, since they are the natural bridge between a user's search and the content you create.
With all of that being said, keyword usage is evolving. We're working with limited information about our audience's keyword history, and punishments for keyword stuffing only continue to grow.
The standard rule for keywords, and more broadly SEO as a whole, is to think first from the user's perspective.
If a user wants to read an article about weight loss, they'll probably be looking for a web page with "weight loss" (or a related term) in the title and occuring natrually throughtout the body. Alternatively, if they encounter a page where "weight loss" is stuffed in every other sentence and incessantly hyperlinked, there's a pretty low chance they'll actually find it useful.
Use keywords naturally, and be mindful of related terms. As user search patterns evolve and semantic search takes the lead, it will become more imperative than ever to speak in your audience's language.
Happy optimizing!