A Huge Opportunity: SEO for your YouTube videos
In less than a year the number of videos viewed each day on YouTube has grown over 30% to a staggering 4 billion views a day.
No other medium has grown so quickly in such a short time. Can you imagine? 72 hours of video are uploaded to YouTube every minute with over 13 million hours of video uploaded in 2011. With numbers like these, it's no wonder businesses and marketers alike are clamoring to find the best method to leverage YouTube to drive new and existing customers down the sales funnel to merchant bliss.
Breaking Through the Clutter is Easier Than You Might Think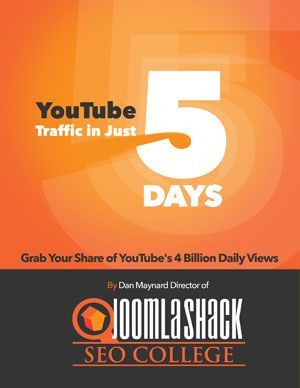 So how do you break through the clutter and get your videos seen on YouTube? While it might seem quite daunting to contemplate even a modicum of success getting your videos viewed, in fact, it's much easier than you think. With all the videos uploaded many aspiring videographers really don't know how to harness the power of YouTube to get high ranks and ultimately the most views. And this is where I show you how to get the most out of YouTube. I've created a training program that will teach you how to get traffic from YouTube to your web site.
It's Still the Wild West Frontier
There are many videos on YouTube; however, very few of them are optimized for high rankings. This makes it relatively easy, if you know how, to get your videos found, ranked, and well rated. It's even possible to get your videos positioned on the top 3 positions - - try doing that on Google!
It's All About Getting Your Message To Your Potential Clients
Imagine getting a potential customer to sit, watch, and learn of your company and its services for several minutes? How much is that worth? If getting traffic to your site/business is important to you then subscribing to the SEO College is an investment that will yield HUGE dividends. Use the companion e-book along with your subscription to truly get the full learning experience and watch your business grow as you implement your new knowledge!
If you are an SEO College subscriber, you'll get access to the SEO course and also the complete YouTube optimization course.

Get Your Free YouTube Marketing e-book Here
The eBook is made available for download inside your Joomlashack Account. To get the eBook please fill the form below using the email address you use in your account.
If you do not have a Joomlashack account, you will get an email with login information.
If you already have an account, by filling this form you will let us know you want the free eBook and we'll add it to your existing account.