At a recent Joomla event, a Joomlashack member asked me a really interesting question:
Do you recommend using a page builder to use with Joomlashack templates?
By "page builder", we were talking about extensions that allow you to design Joomla pages using a drag-and-drop interface.
I admitted that I hadn't used the page builders enough to give him a good answer. So, over the last couple of weeks, I downloaded and tested several Joomla page builders.
Here's an introduction to some of the most popular page builder options.
---
Option #1. RSPageBuilder
RSPageBuilder is a product from RSJoomla. After installation, you go to Components > RSPageBuilder and you see a screen like this. You design your layout by adding rows and columns.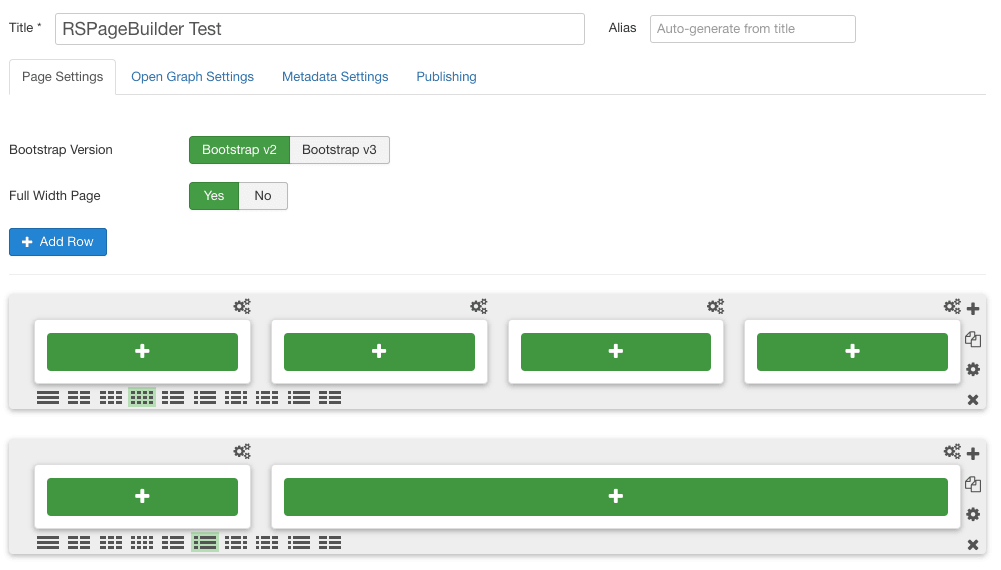 Click on any of the + icons, and you'll be given a selection of blocks to choose from: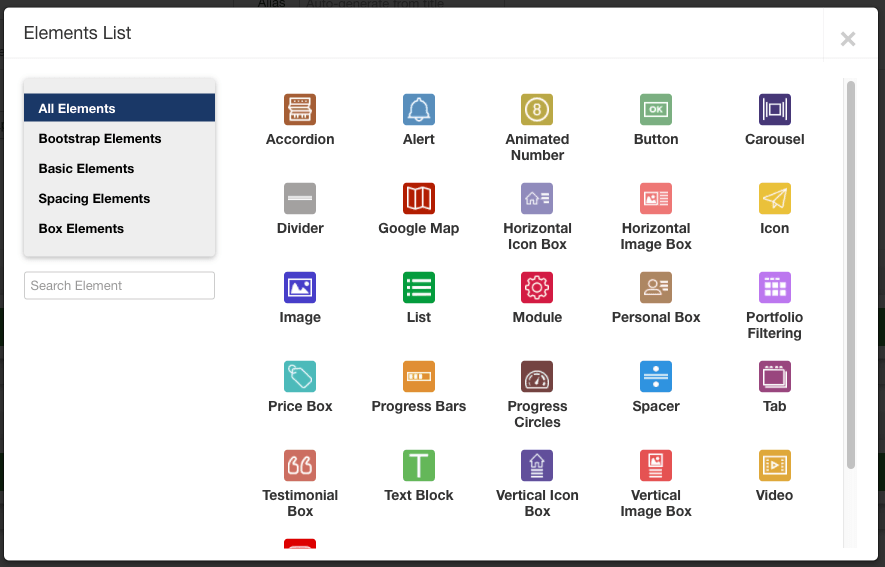 After building your page, you then make a menu link to RSPageBuilder, just as you would make a menu link to an article. That's probably the best analogy I can think of RSPageBuilder ... treat all the pages you build just as if they were regular articles.
As with JSN Pagebuilder, I tested RSPageBuilder with multiple templates and it worked perfectly. RSPageBuilder probably had the most straight-forward UI of all the page builders I tested. It was immediately obvious how to do almost everything I needed. RSPageBuilder would be a good option for designing homepages and landing pages.
---
Option #2. Quix
Quix is a component from ThemeXpert and works in a similar way to RSPageBuilder. After installation, you go to Components > Quix, and then you use a rows and columns approach to building the layout.

Click on one of the + icons and you'll get a choice of elements to add to the page. As with RSPageBuilder, you complete the process by creating a menu link to your new Quix page.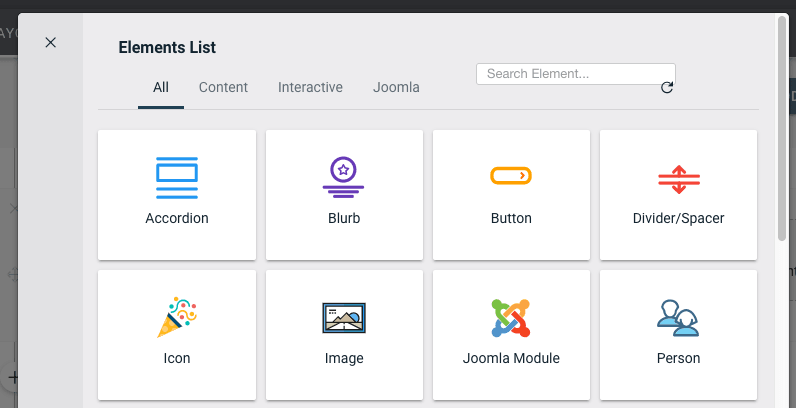 One interesting difference with Quix is that, unlike the others, they have made a real effort to integrate with other popular Joomla solutions. You can enable support for K2, Hikashop and other extensions.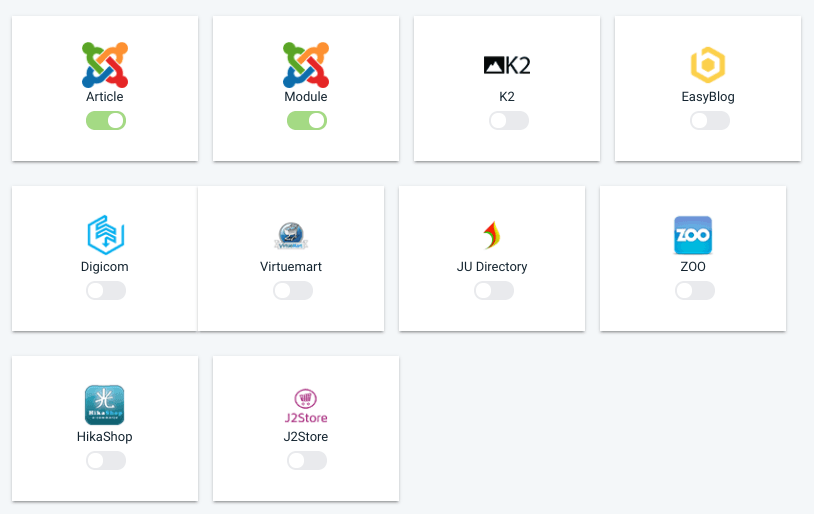 Cost: There's a free version, and the Pro version is $39 per year.
---
Option #3. SP Page Builder
SP Page Builder is from JoomShaper. It is unusual in this list because you can create custom pages and also use the features inside articles.
To create custom pages, go to Components > SP Page Builder and start creating a new page. You use the rows-and-columns approach to building a layout.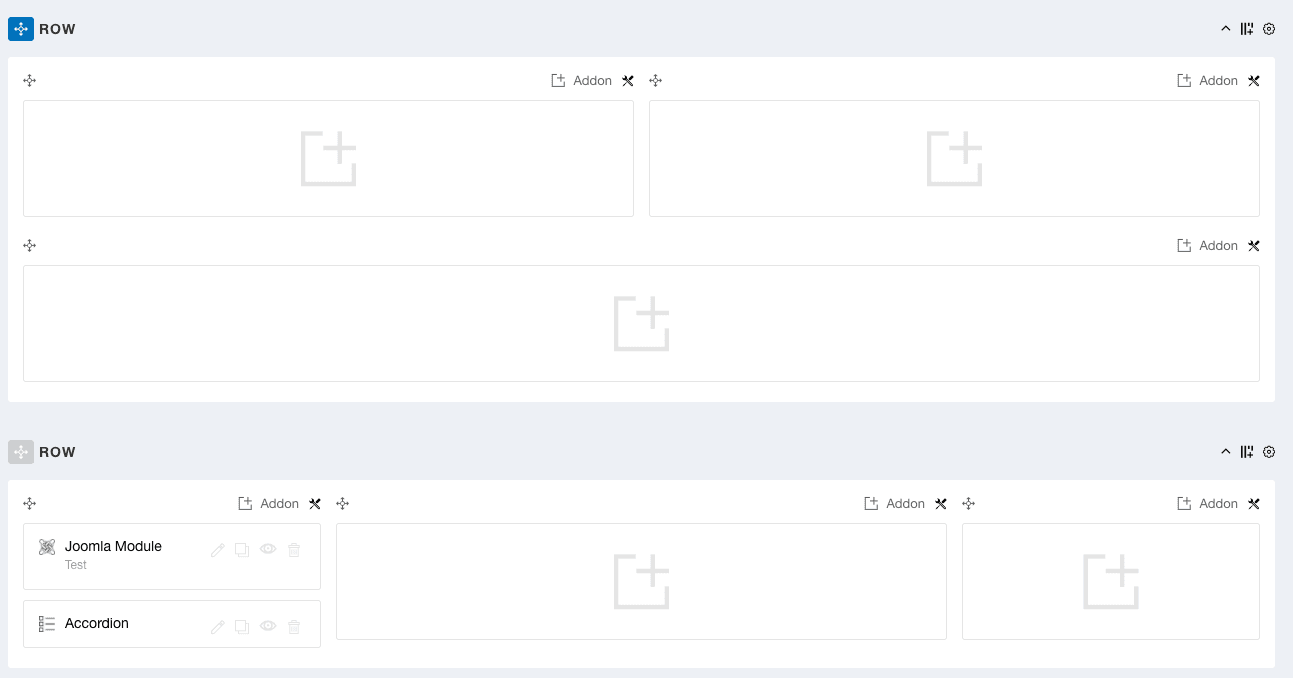 To be honest, I didn't find SP Page Builder to be particularly easy to use. The interface uses a combination of very small buttons and very large options screens. However, apart from that, it's a very similar product to Quix and RSPageBuilder.

SP Page Builder can also replace the default article editor screen: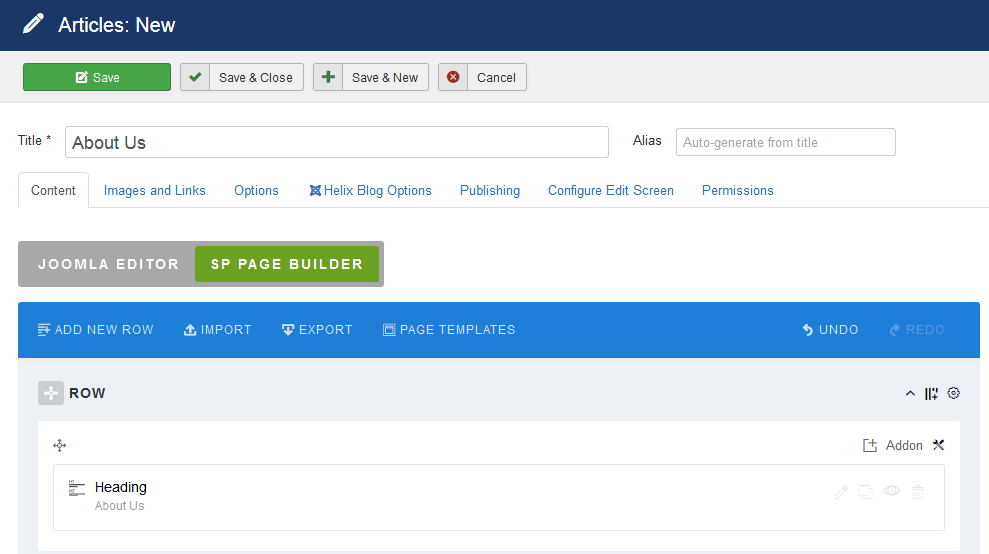 Cost: There's a free version available. The Pro version is $49 per year.
---
Option #4. JSN Pagebuilder
JSN Pagebuilder comes from Joomlashine and is best described as "Article Builder". All the work you do is directly inside articles. You start using JSN Pagebuilder by editing an article and using a "Switch Editor" button.

Once you do that, the layout options appear on the right-hand side. You drag-and-drop the items from the sidebar into the main body of the article. You will need to do all your work in this view. Switching the editor back to another option will break your layout.
The interface of JSN Pagebuilder isn't quite as slick as some of the others in this list, but it's an effective way to build individual pages.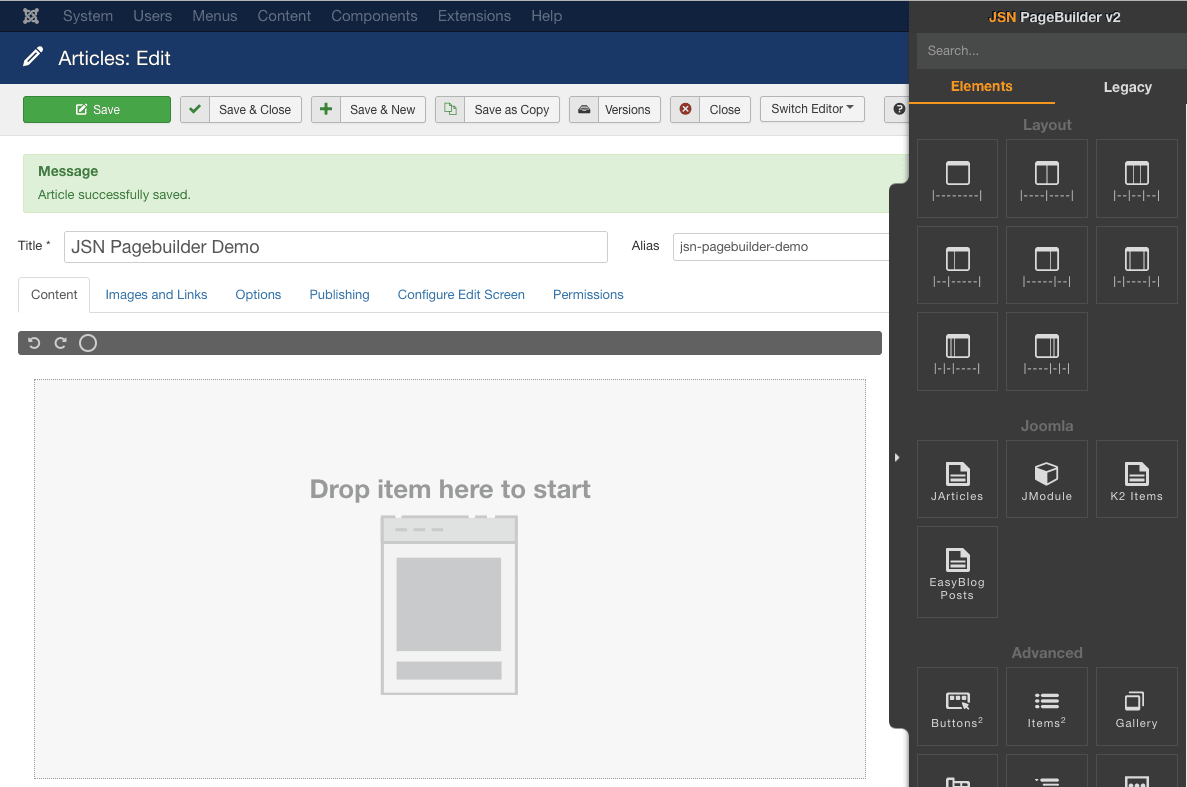 ---
Option #5. YooTheme Pro and Gantry
YooTheme and Gantry are worth including in this list because they have some page builder features. However, they are really best described as template frameworks with a page builder included. Both YooTheme Pro and Gantry must be the default template on your site.
The best comparison I can make is that YooTheme Pro looks and acts like the WordPress Customizer. There's a left sidebar with all options such as "Layout", "Style", "Builder", "Menus" and Modules":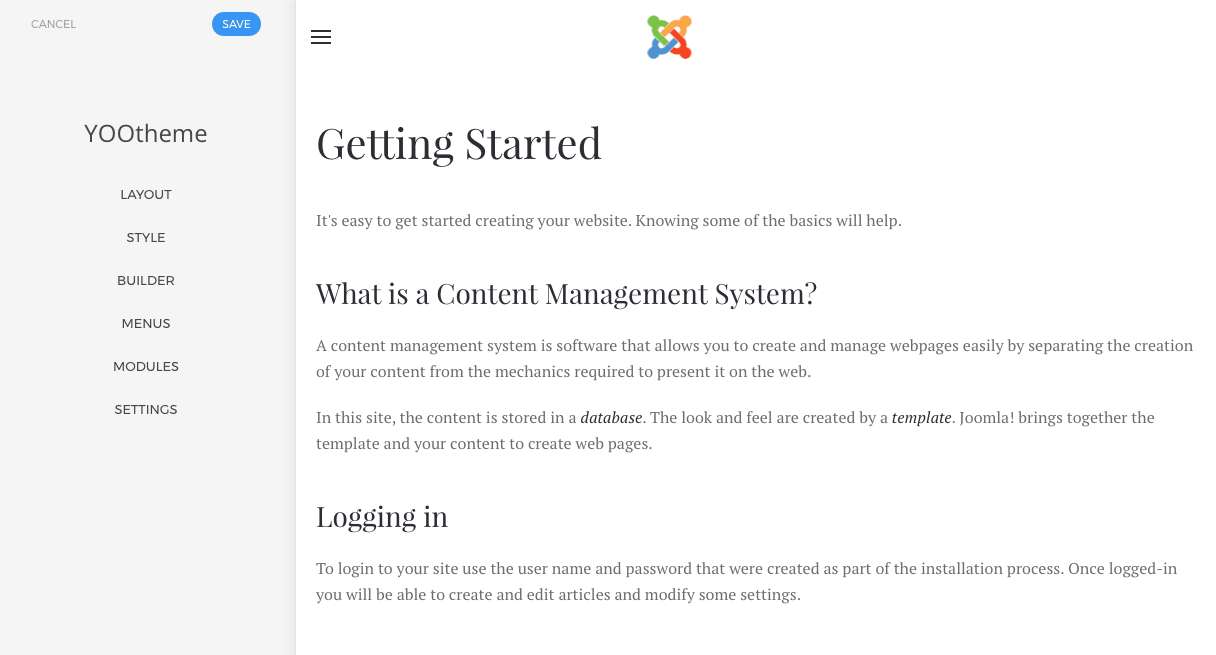 As you click on these sub-headings, more options become available underneath. Often you end up going 3 or 4 levels deep inside the settings, so it can it become a little confusing as to where you are in the customizer.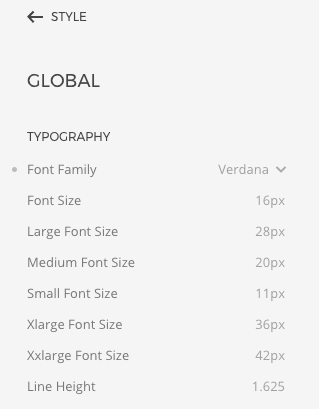 There is a "Page Builder" part of YooTheme Pro that offers the blocks you would expect: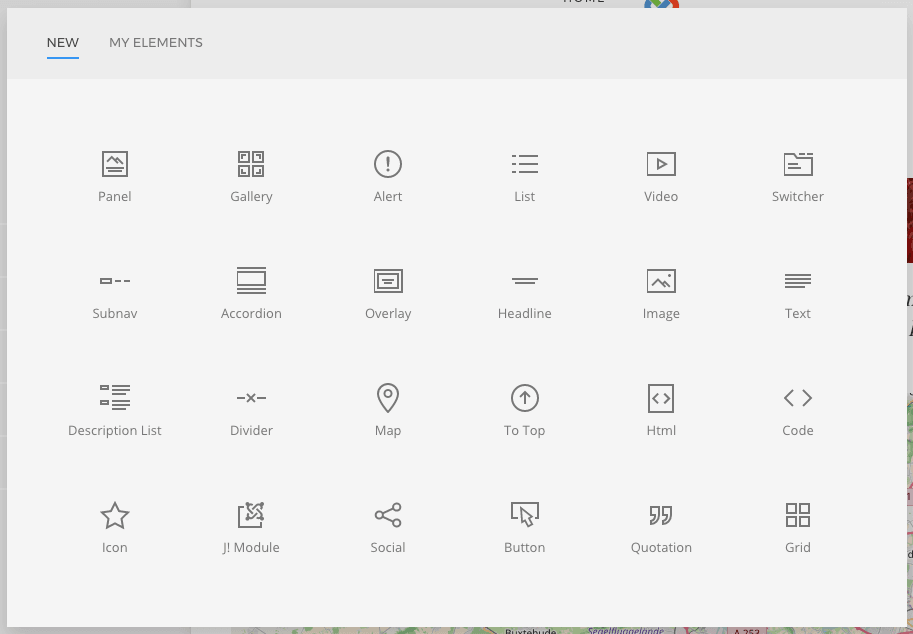 Overall, I really liked YooTheme Pro. It does have the best UI of all the options I tested. The interface is very nicely done, borrowing many good ideas from the WordPress approach.
Gantry is also a massive change from the normal Joomla experience. After installation, you go to Components > Gantry 5 Themes and will see a wide range of options, including a Layout builder: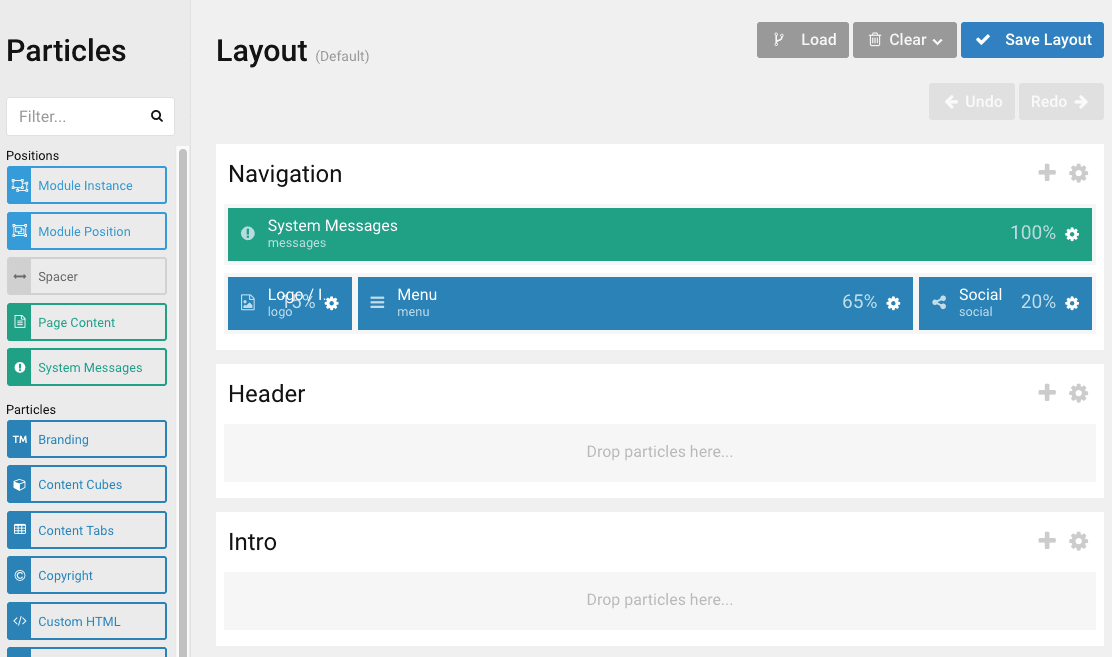 "Page Builder" is not the best term for these solutions. YooTheme Pro and Gantry are probably best described as "Site Builder". They remind me of the big, all-in-one themes that are popular in WordPress. They abstract away almost all of the Joomla interface, so it becomes far more of a YooTheme / Rockettheme experience than a Joomla experience.
---
Option #6. The Template Toaster template builder
Template Toaster template builder is one of the best offline website builders. You can create stunning Joomla page templates with Template Toaster in a few steps.
Download the Template Toaster website builder software for Windows or Mac. Install it on your local machine. Just make sure that during installation you select Joomla as the CMS.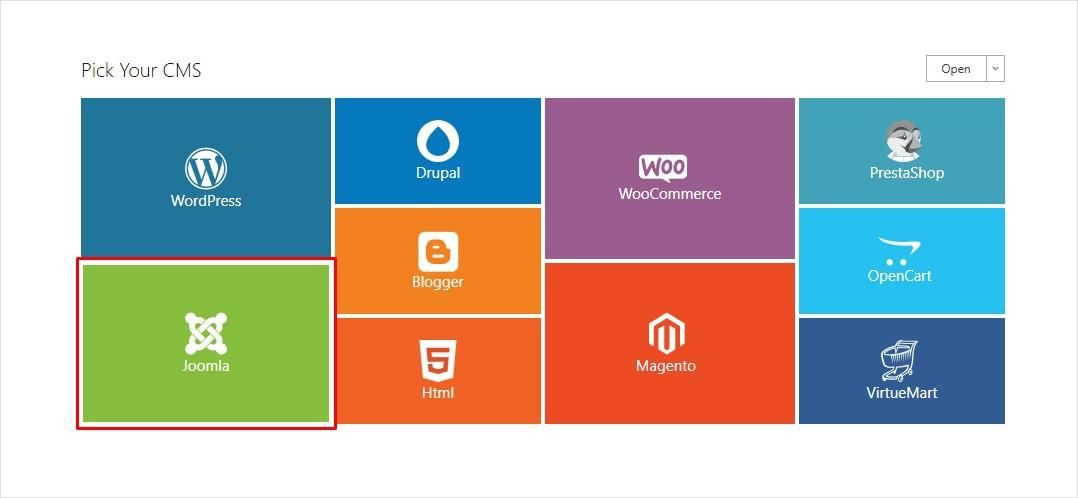 Next, either modify one of the pre-designed templates or start from scratch to create your own Joomla page template.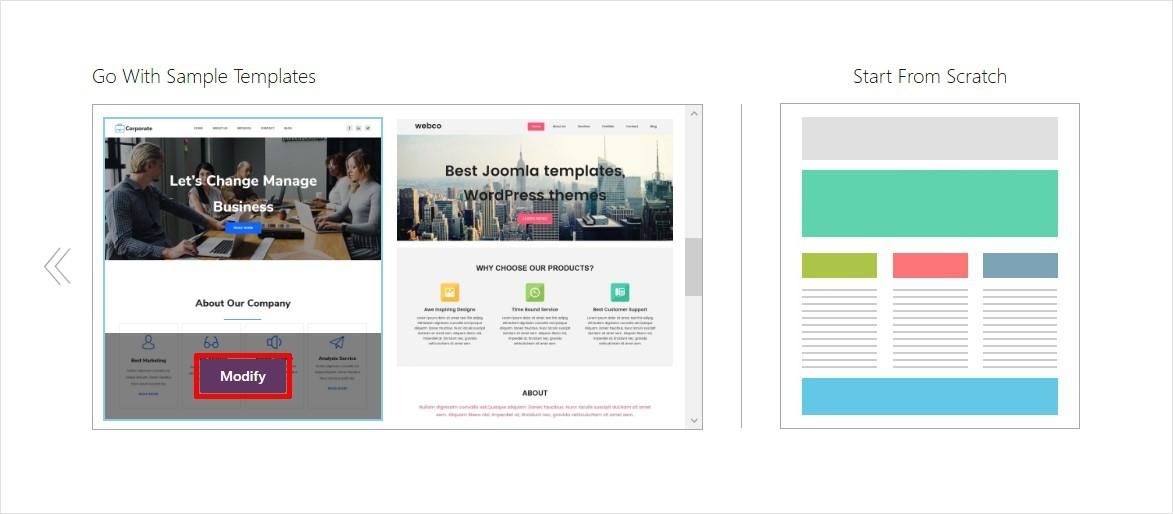 You will have many options to design preferred layout, custom header, custom module options, template options and many more. Template Toaster is compatible with Bootstrap. It also supports the popular e-commerce Joomla extension VirtueMart, enabling you to create great eCommerce Joomla websites.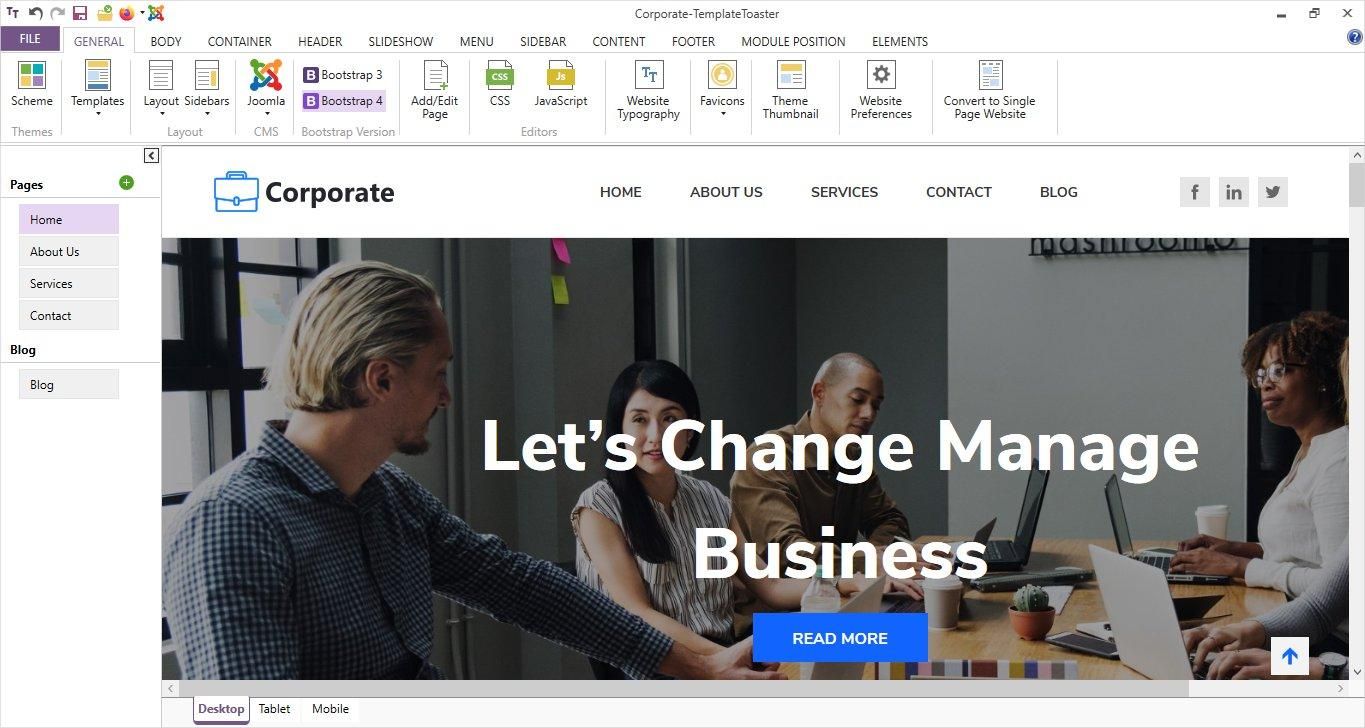 Finish by exporting your Joomla template and uploading it to your site. This is a one-click task. You can contact the TemplateToaster support anytime if you get stuck anywhere.
Cost: The Trial plan - Free, Standard edition- $49, Professional edition- $149.
---
Conclusion
This was a brief introduction to each page builder option, but hopefully, it gives you an idea of the differences between them.
I did enjoy testing these page builders, but I'll admit to some disappointment:
Few of them use the standard Joomla interface, and most require users to learn a completely new UI.
Few blocks and elements inside the page builders are shared. Each developer has their own accordion, their own gallery, their own Google Maps integration.
With the exception of Quix, there's little attempt to integrate with the rest of your Joomla site. Some of them even replace the Joomla media library with their own. Many page builders are their own isolated worlds.
If you're a Joomlashack user, I can safely recommend Quix, RSPageBuilder, SP Page Builder and JSN Pagebuilder. Those 4 will work inside a Joomlashack template.
Out of those four, I would recommend RSPageBuilder first. RSPageBuilder does the best job of sticking close to the Joomla core by using Bootstrap. It has the cleanest and easiest interface, perhaps because the admin area looks and feels like a native Joomla experience.
---
Over to you
Have you used any of these page builders, and do you recommend them?
Are there any page builders missing from this list that you'd like to see included?
Would you like to see more in-depth reviews of these page builders?
Let us know in the comments ...