Single sign-on (SSO) is a very useful tool for managing multiple sites.
Single sign-on is often used by large companies that have many different software platforms. If all those platforms are connected using Single sign-on, then users only need to remember one username and password.
I've also seen Single sign-on used by Joomla agencies. If you are managing 200+ sites, it can be impossible to remember the login details for all those sites.
We use Single sign-on here at Joomlashack. We run dozens of Joomla sites here with installations needed for template demos, extensions, customer sites and more.
There are many use-cases for Single sign-on, but how do you find a reliable SSO service in Joomla? We recommend Watchful.
SSO is often done by LDAP (Lightweight Directory Access Protocol) but that can be complicated to set up and manage. In contrast, the Watchful service is delightfully easy to use.
You will need a Watchful account to follow along. They do offer a 30-day free trial. This link has full documenation for Watchful's SSO feature.
Login to your account at Watchful.
Click "Download Center" at the top of the site.
Scroll down and Click "Download" for the "Watchful SSO" extension.

Next, we'll use the "Remote Installer" feature in Watchful. This allows you to install extensions to all your Joomla websites directly from the Watchful Dashboard.
Click "Installer" in the side menu of your Watchful account.
Select the Watchful SSO extension that you just downloaded.
Click "Install" next to all the sites you want to connect to your SSO service.
Watchful will automatically install the Watchful SSO extension into all the sites you choose.

Now the final step: we'll create the SSO user for all the sites that have the Watchful SSO extension.
Go to "SSO" in the side menu of your Watchful account.
Click "New".
You can now create the SSO user. You can set all these details:

Username
Display Name
Email
User Group
Password

Click "Save" and Watchful will automatically create this user on all the sites you selected earlier.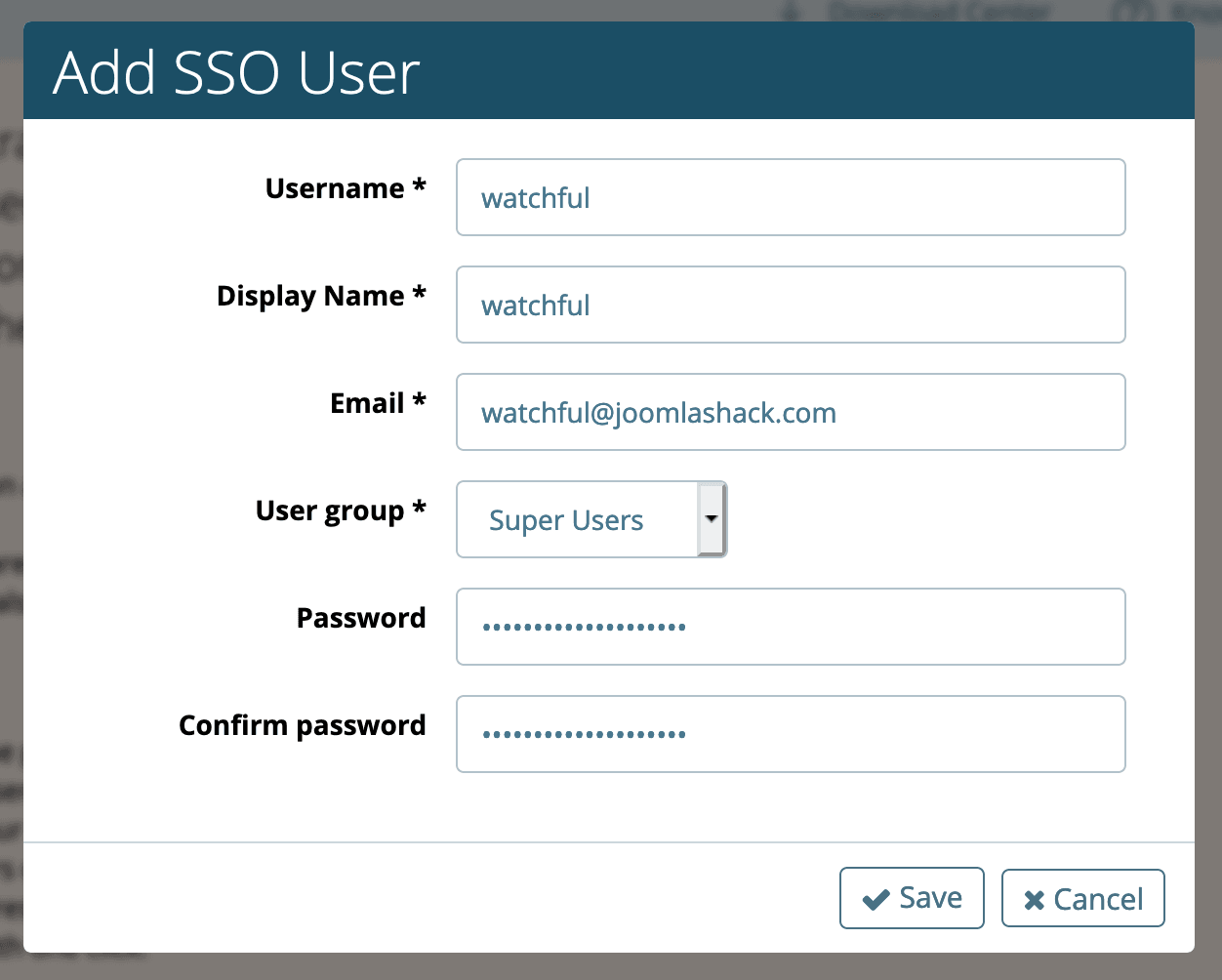 Your final step is to test out this SSO user. Take the username and password that you just created and try to login to one of your Joomla sites.
You can create as many SSO users as you want. One approach we've seen is for agencies to create one SSO user for each of their staff. This has several advantages, inlcuding:
Using Joomla's user logs, you can see exactly who made each site change.
If a staff member leaves the company, you can quickly remove their access from all the sites.
---
Check out this Watchful intro video
---
Get 30 days free access to try Watchful
Watchful is a big help to our Joomlashack team. We get more done by using Watchful to automate all our site maintenance.
If you run multiple Joomla (or WordPress) sites, then give Watchful a try. They've got a 30-day free trial available: