Are you testing Joomla 4 and would like to know how to update it from one Alpha or Beta version to another?
In this tutorial, we'll show you how to update your Joomla 4 Alpha or Beta to its latest release, even with no automatic update available.
Let's start...
WARNING
Please, don't implement instructions in this tutorial on your production sites! They are intended purely for testing purposes only.
---
Why you would want to update a Joomla 4 Alpha or Beta test site
Case scenario:
Recently, I installed Joomla 4 Alpha 4 to start working on making our Wright template framework ready for Joomla 4 Stable.
On my Alpha 4 site, I have created menus, modules, articles, and other content items, to test the Wright framework under Joomla 4.
Later, Joomla Production Team released Joomla 4 Alpha 5 through nightly build site.
I now need to update my existing Joomla 4 test site from Alpha 4 to Alpha 5 to keep all my previous work intact.
Between these two Alpha versions, Joomla Production Team implemented many changes and bug fixes. However, there are no automatic updates between non-stable Joomla versions.
If Joomla 4 Alpha 5 would be released, one solution to update my Alpha 4 to Alpha 5 could be downloading Alpha 5 and installing it as a brand new testing site.
This means I would have to start my testing site completely from scratch. I would need to re-create its menu items, modules, articles, and so on, from a clean slate. Not good.
Luckily, the Joomla Update component allows you to define a custom update channel and update Joomla versions that are still under development.
This allows you to update your existing Joomla 4 test site core to the latest Joomla 4 Alpha or Beta and keep all the content items you previously created.
No need to install your whole Joomla 4 test site and its content from scratch. Just run the update.
As the end result, your Joomla 4 Alpha or Beta core will be updated to its latest nightly build.
---
Updating Joomla 4 Alpha or Beta to nightly builds
The nightly builds are snapshots of the development activity for upcoming Joomla! releases. They include new features and bug fixes scheduled for these releases.
To update to the latest Joomla 4 Alpha or Beta nightly build:

Click Save & Close.
Go to Live Update.
Click Install the Update.
Wait until the update process is finished.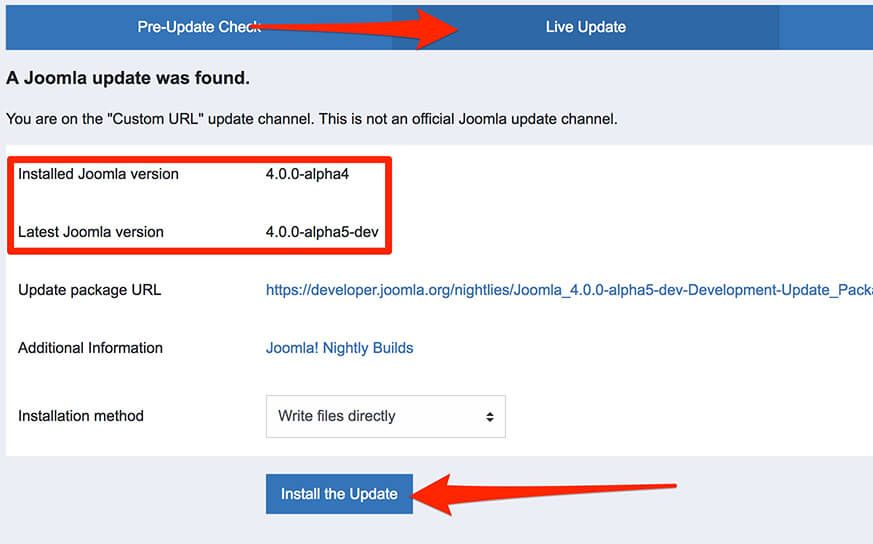 Everything being well, your Joomla 4 Alpha or Beta test site is up-to-date! Continue testing it and report any bugs through Github.
Note: this blog post was originally published on August 8, 2018.
---
What's Next?
Save $1000's when you sign up to the Everything Club today! You' ll get access to all our extensions, templates, and Joomla training.