Each class should have many lessons. To add new lessons follow these steps:
Go to Components
Lessons
New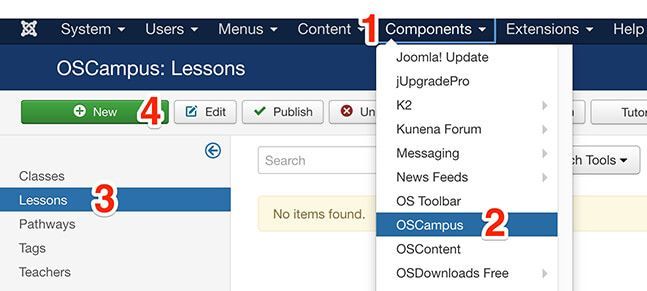 Fill in the main lesson details:
Class. Select the class where this lesson will belong.
Module. Type the module name for this lesson. i.e. Introduction.
Lesson type. Choose from these options:

Quiz
Text only
Wistia video
URL Embed

Published. Leave as published.
Access. Limit the access for this lesson to specific users.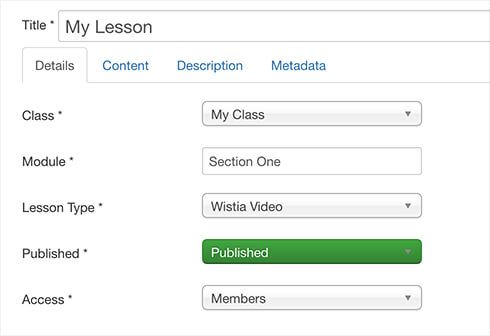 In Description tab you can optionally type a short explanation for this lesson.
In Metadata tab type custom title and description for SEO purposes.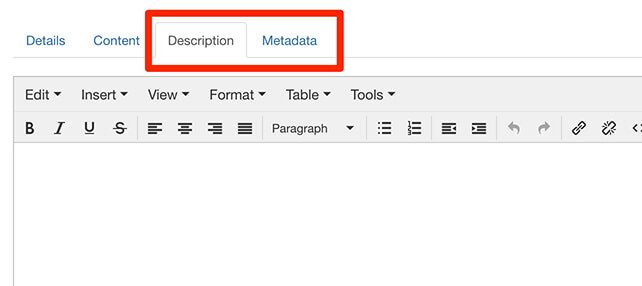 Click Save (not Save and close).
Add content to the lesson
Go to Content tab and fill in the content; this depends on the lesson type you choose from previous step.

In the lesson type above we show a Wistia video, so, inserting the Wistia video ID is enough for OSCampus to generate the Wistia video embed in frontend.
Click Save and close when you're done.
Repeat the process to add more lessons.