This features are exclusive to OSContent Pro version.
To access, go to Components > OSContent Pro.
K2 Support
You can manage K2 content in mass:
K2 - Create items
K2 - Create categories
K2 - Delete items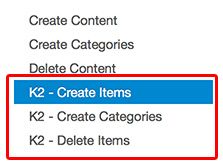 The features for K2 component works in same way as with regular articles, for more details read our getting started documentation.