Before installing OSDownloads Free or Pro on your site, please make sure your site meets the following technical requirements.
In order for OSDownloads Pro to work normally on your site, the extension must meet some technical requirements. Once you read the instructions below, you will be able to easily identify what those requirements are. You will also learn what to do if your site fails to meet one of them.
PHP Requirements
Database Requirements
MySQL: version 5.5.3 or newer.
SQL Server: version 10.50.1600.1 or newer.
PostgreSQL: version 9.1 or newer.
Web Server Requirements
Apache: version 2.4 and newer.
Nginx: version 1.8 and newer.
Microsoft IIS: version 7 and newer.
Joomla Version Requirements
Joomlashack supports the latest version of Joomla 3. If you're unsure about the latest version of Joomla, click here to visit Joomla.org.
What Version of PHP, Database, and Joomla Do I Have?
If you are not sure what version of PHP or Joomla your site is currently running, here's how you can find it out:
In your Joomla site, go to System > System Information: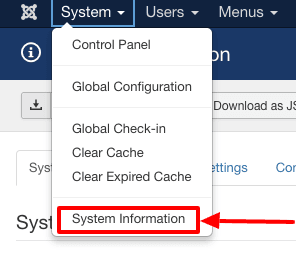 Both your Joomla and PHP versions will be visible on this page: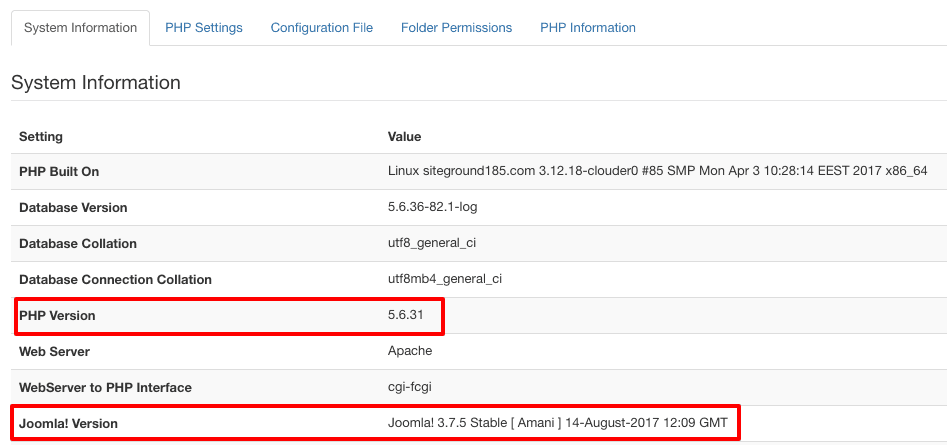 What Should I Do if My PHP Version is Below 5.6?
Copy-and-paste this text and send it to your hosting company:
I'm interested in running the Joomla web software and I was wondering if my account supported the following:

PHP 5.6 or greater
MySQL 5.5 or greater OR MariaDB 10.0 or greater
The mod_rewrite Apache module
HTTPS support
Thanks!