OSMap is compatible with Joomla articles and weblinks. The Pro version features support for some 3-rd party extensions.
The key to making OSMap work with another extension is finding a plugin to connect them.
Joomla core extensions supported by OSMap
When you first install OSMap Free it will support Joomla articles. This is because OSMap has support for the com_content extension.
Third party extensions
If you install OSMap Pro, it will also support Weblinks and these extensions:
K2
Kunena
Mosets Tree
SobiPro
Virtuemart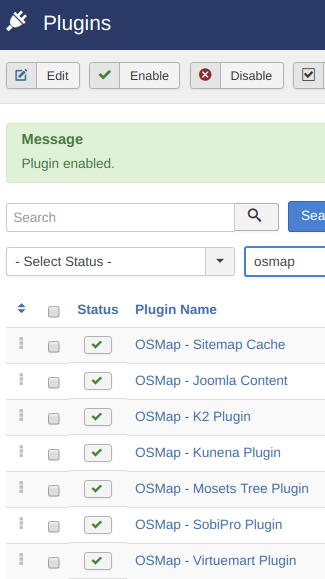 Some other Joomla extensions provide plugins to integrate their extensions with OSMap.
If you are using a 3rd party extension, please check with the extension's developer if there is a plugin to integrate the extension with OSMap.
*OSMap plugins for EasyBlog, EasySocial and EasyDiscuss are installed automatically when you install the extensions.
Many plugins that worked with now discontinued XMap also work with OSMap.
Why do you need these plugins?
Without the plugins, OSMap will only list the URLs found via menu links. Each plugin will be able to go beyond menu items and grab other data such as, for example, products from Hikashop, posts from Kunena, or all the published articles in K2 content.
Did the sitemap break?
Some plugins may cause your sitemap to not work correctly. If you have such an issue, try disabling the OSMap plugins, working on your site, one at a time, with testing if the issue still persists.
If the issue is gone after you disabled one of the 3-rd party OSMap integration plugins, please contact the extension developer with this issue.
I have developed a plug-in for a Joomla extension. How can I get it listed here?
If you would like to have your plugin listed here, please email to This email address is being protected from spambots. You need JavaScript enabled to view it..