Our Shack Forms component creates forms that are compliant with privacy regulations.
The Options button
You can decide to store or not the users' private data.
Go to Components > Shack Forms Pro.
Click the Options button in the top right corner.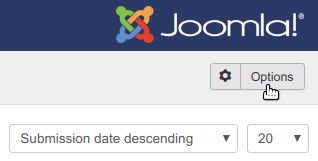 Under the Component tab, you will see the Store GDPR Data option with Enabled and Disabled choices: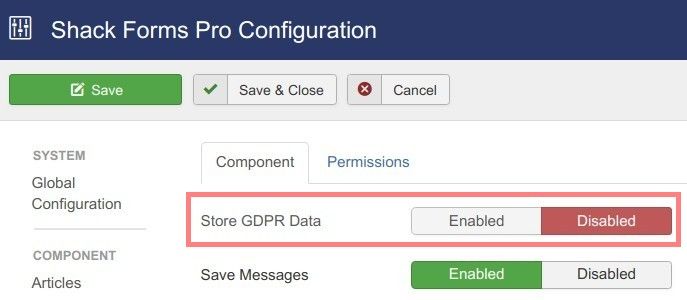 When set to Enabled, your site will store user data sent via Shack Forms.
When set to Disabled, your site will not store any user data sent via Shack Forms.
You will find a brief description of the Store GDPR Data feature if you point your mouse to the Store GDPR Data label:

If you do choose to collect users' data, then users' email addresses, IP addresses, and browser versions will be stored:

You will see this data on the main Shack Forms screen and also when you open an individual message: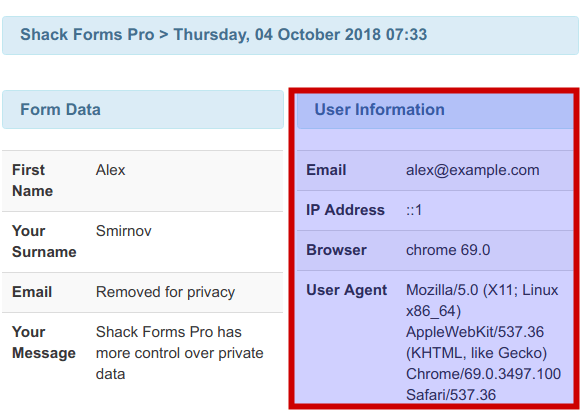 To comply with data privacy regulations, you must be able to delete users' data if they ask you to. That's where the next two Shack Forms features come into play.
The Clear GDPR button
You can clear users' private data stored with your Shack Forms Pro messages on a per message basis.
Select the required message from the main Shack Forms screen.
Click the Clear GDPR button.
Click OK.

If you check your list of Shack Forms messages, you will notice that the user's private data has been deleted:

If you open the message itself, you will see that the user private data has been deleted there also: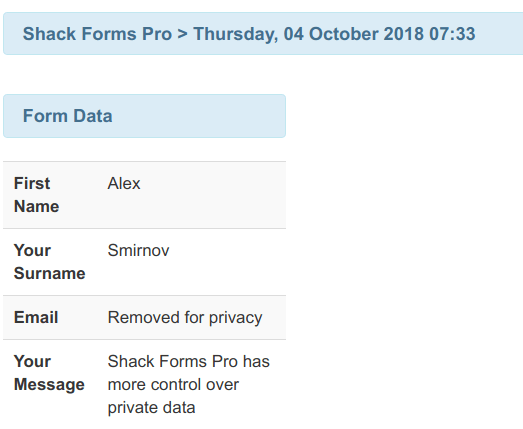 The Clear All GDPR button
You also have an option to delete private data for all your Shack Forms messages.

You will be prompted to confirm your choice. Click OK.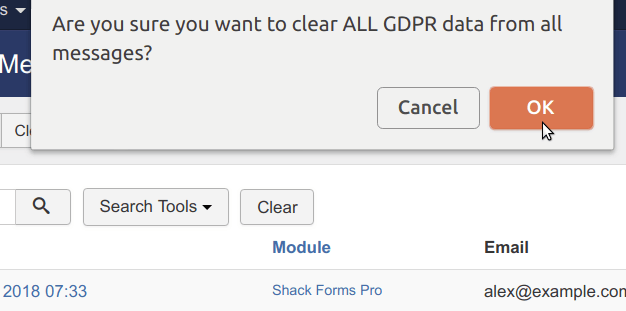 Shack Forms Pro will display a message, telling you that GDPR data has been cleared from [number of your messages] messages.