Shack Forms is the best Joomla extension to easily create flexible and cool looking forms with sliding or popup effects.
In this Quick Start Guide, you will learn how to create a basic contact form.
The form will feature only three fields, collecting a name, an email address, and a message.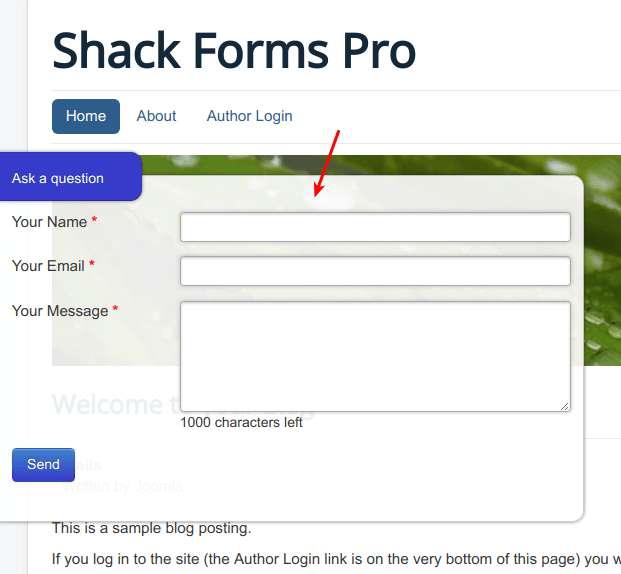 Let's get started.
In your Joomla control panel, go to Extensions > Modules > New.
Next, click Shack Forms Pro: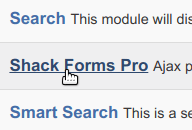 Click the Module tab:

Leave the Layout, Position, Position offset and Layer level (z-index) settings intact.
Show Title: set to No.
Position: set to debug.
Status: set to Published.
Under the Menu Assignment tab, link the module to the required menu items.

Good job! You are done with the basic module settings. Now you will move to create the contact form itself.

Click the Module tab.
Click Add new field:

You will see a few fields dropped down. To create your first field named Your Name, set it as follows:


Field label: enter Your Name.
Alias name: leave empty.
Field type: leave the default Text value.
Values: leave empty.
Tooltip: leave empty.
Validation (Regular Expression): leave empty.
Required: click Yes

Click Add new field button once again.
Create Your Email field with the following settings:

Field label: enter Your Email.
Alias name: leave empty.
Field type: click inside the field and select Email.
Values: leave empty.
Tooltip: leave empty.
Required: click Yes.

Click Add new field once again.
Create Your Message field with the following settings:

Field label: enter Your Message.
Alias name: leave empty.
Field type: select Textarea.
Values: leave empty.
Tooltip: leave empty.
Required: click Yes.

Click Save or Save & Close.
Visit your site. You should now see the Ask a question button in the left top corner of the site:

Click Ask a question. You will now see your new contact form: