You can use Shack Forms Pro as a communication tool between your Community Builder users and your Joomla users.
Once you integrated these two Joomla extensions, your Joomla users or your Community Builder users can visit a page of a profile of a Community Builder user and send them a message via Shack Forms.
In this document, you will learn how to integrate Shack Forms and Community Builder.
Here is a workflow of the integration:
A registered Joomla user or a Community Builder user logs into your site frontend
They visit the list of your Community Builder users
They click on one of the listed Community Builder users
This brings them to the profile page of this Community Builder user
This also displays to them the toggler, the button of a Shack Forms form
They click the toggler, open up the Shack Form and send a message to the Community Builder user
The Community Builder user receives the message.
Let's take a look at how to achieve this in more detail.
In your Shack Forms module, go to the "Integration" tab:

Locate the "Community Builder" section. It has only one setting - "Send email to user".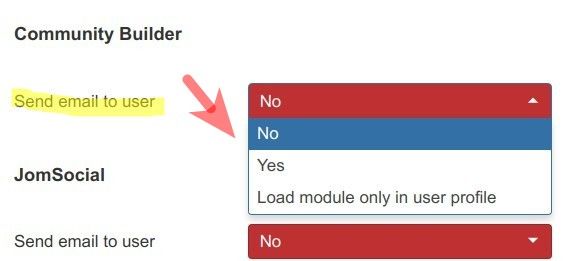 For your Shack Form to send emails to your Community Builder users, configure this parameter to one of the two options:

To "Yes". The toggle of your Shack Form module then will continue displaying on the pages of the profiles of your Community Builder users and on the rest of your site as you set it to display under the module's "Assignment" tab.
Or to "Load module only in user profile". The toggler of your Shack Forms module will be displayed only on the pages of the profiles of your Community Builder users: