Plans can be created or edited either inside Simple Renew Pro component or in your Recurly account.
To create the plans inside the Simple Renew Pro:
Go to your administrator panel.
Components > Simple Renew Pro.
Click New.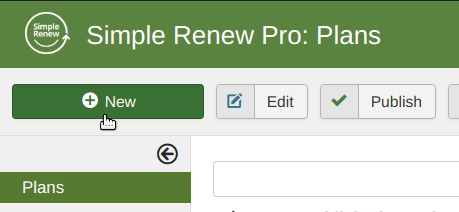 To create the plans inside Recurly:
Go to your Recurly.com account.
Subscription Plans.
Click New Plan.
There are several items to set up for each plan.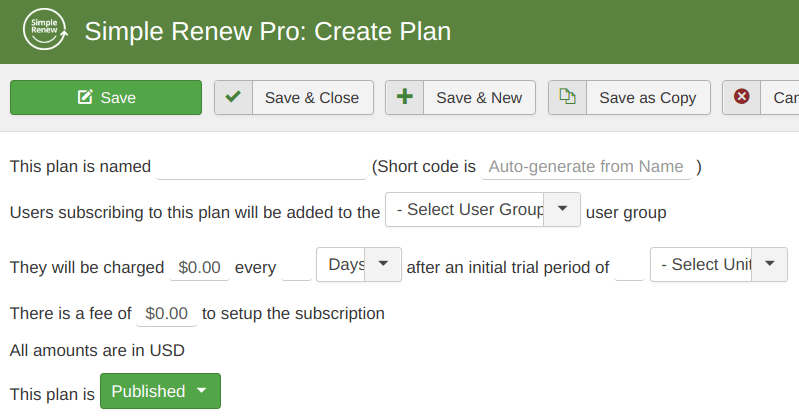 Plan Name: This name describes your subscription plan. It will appear on your subscription payment page and on your subscriber invoice.
Plan Short Code: Unique identifier of your Recurly subscription plan. This will be auto-generated from the name in Simple Renew.
User Group: When someone has this plan, what user group are they assigned to? (only available in Simple Renew)
Amount: How much will the subscription cost?
Length: How long will the subscription last?
Trial Period Length: If the subscription has a free trial, how long will the trial last?
Setup fee: Is there a one-time cost to join this subscription plan (separate from the repeating amount)?
Published: Is the plan available on the site or not? (only available in Simple Renew)
Aside from two of the above exceptions, creating or editing plans in either Simple Renew or Recurly will automatically sync the two.
For User Group and Published, you'll have to enable that in Simple Renew's plan area, since they are Joomla specific features.
Click Save to finish creating the plan.
To edit a plan, simply click on the plan name.
Pro tip:
Send Renewal Reminders: Do you want users to be notified by email before their subscription renews? If so, Recurly has implemented this feature, but it's still undergoing testing.
This option is only available in Recurly and is only available after requesting the feature via Recurly's support (This email address is being protected from spambots. You need JavaScript enabled to view it.).
The reason why it's not available in Simple Renew is that Recurly hasn't provided access to that option via their API yet.
That being said, this in no way limits what you can do, since you can edit the plan in Recurly.com and checkmark the Send Renewal Reminders option for each plan. When editing in Simple Renew, your selection will be maintained in Recurly.