NEW! JS Elated: An upbeat, fun & multi-purpose Joomla 1.6 template!
You'll LOVE how our latest template will make your site stand out with its feel-good colors & design
E*lat*ed - [ih-ley-tid] - adjective
very happy or proud; jubilant; in high spirits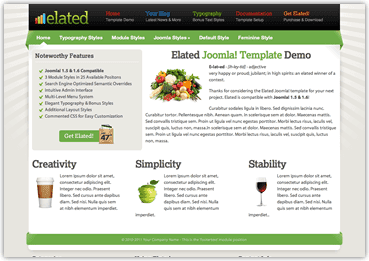 We're *elated* to announce the release of our latest Joomlashack template,
JS Elated!JS Elated
is a fun & upbeat multi-purpose template that's simply perfect for any website or blog that compliments its cool, feel-good colors & styles--like a
book review site/store, foodie & recipe site, scrapbooking or hobby site, a parenting blog, a coupon site
, and more. This template will add warmth to any site and will make your visitors feel comfortable and right at home!
JS Elated
is a Joomla! 1.5 & 1.6-compatible template featuring:
3 Module Styles
2 Colorful Built-in Themes
25 Collapsible Module Positons
Gorgeous built-in Google Fonts (makes your site really stand out!)
1,2,3 or 4-column layouts
Elegant Typography & Bonus Styles
Multi-Level Menu System
Commented CSS for Easy Customization
Search Engine Optimized code
and so much more!
Check out the demo we have set up for
Elated
right now or head over and buy it today for just $47. You'll be
happy
elated you did!