In our beginner classes we recommend Google Analytics as a free and accurate way to count people visiting your site.
With Shack Analytics, you have an option to add Google Analytics to all pages of your Joomla site. Install Shack Analytics from your Joomlashack account, then follow this guide.
---
Step #1. Get the Google Analytics ID
Sign in to your Google Analytics account. Please, visit this tutorial on how to create a Google Analytics account, if you still don't have one.
In your Google Analytics dashboard, click Admin.
You will see the new columns. In the Property column, click Property Settings.
Copy the Tracking Id. This is what we will use to connect your site to Google Analytics.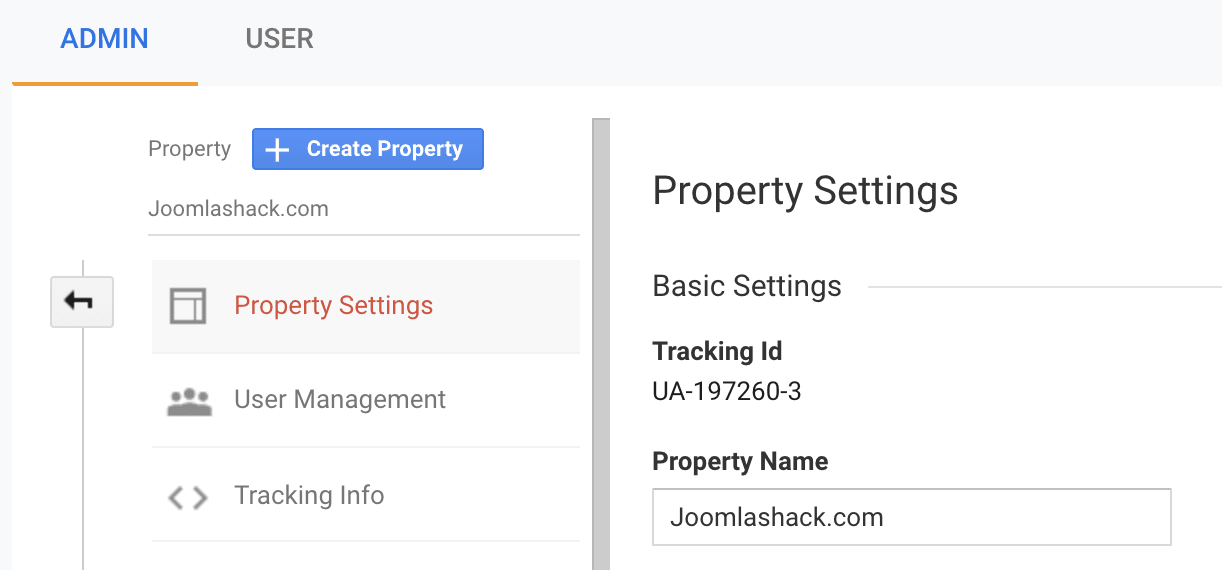 ---
Step #2. Add your Tracking ID to your site.
In your Joomla administrator area, go to Components > Shack Analytics Pro.
You will be taken to the Shack Analytics: Tracking Tags administrative page.
Click System - Shack Analytics.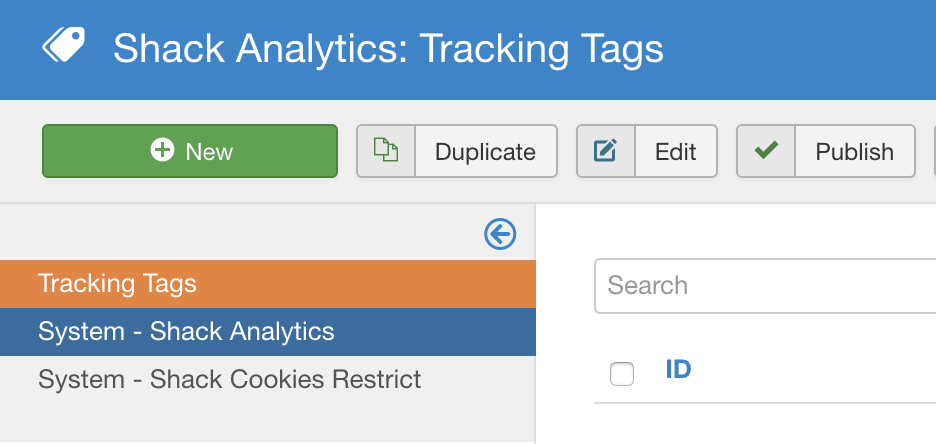 Enter the ID number of your Google Analuytics account into the Universal property ID box.
Make sure that this plugin is enabled.

There are some key settings on this page. Here is what they mean:
Google Analytics: Choose the Google Analytics version to use; Universal or Classic.
Disable cookie: Let the plugin use visitor IP addresses to calculate a unique client ID instead of using a cookie. Accuracy is decreased a little but data is collected even if cookies aren't accepted.
Cookie domain: Override the default cookie domain. The default is the domain of the current web page (minus any sub-domain). Leave it empty to preserve default behavior of Google Analytics.
Anonymize IP: Anonymize visitor IP addresses by telling Google Analytics to not store the full IP address.
---
Step #3. Check your result
Check the source code of your website pages. You will see your Google Analytics tracking code added:

You can also go to your Google Analytics account to make sure that the Google is accepting the code. The best to way to check is by clicking "Real-Time" and seeing if Google is picking up people currently on your site.