Joomla 3.4 was released at the end of February and the roadmap is starting to take shape for Joomla 3.5.
There's no estimated release date yet, but there are some exciting plans.
Here's an overview of what you might see in Joomla 3.5.
Joomla 3.5: Override all the things!
A key goal for Joomla 3.5 is to make sure that everything in Joomla can be overriden.
The core team hope to use JLayout to make this happen. We've covered Joomla Layouts twice on this blog.
The main stumbling block appears to be forwards compatibility. The team's original idea was to use the current JLayout system, but make sure that a new rendering system could be added in the future. In their ideal world, the rendering system could be replaced with other systems such as Twig or Blade.
Much remains to be done, but you can read more about their planned roadmap here.
Joomla 3.5: Goodbye to com_messages
Say goodbye to what? You probably never used it, but after removing Weblinks, the next extension to be removed from the Joomla core will be com_messages. It will placed on the JED and on it's own Github repository.
Joomla 3.5: New Media Manager
Buddhima Wijeweerahas been working on a new media manager that addresses many complaints with the current version. Here are some of the key features:
A redesigned Media Manager interface
A better drag and drop image uploader
Image tagging
Improved image editing with options to crop, resize, rotate, filter and more
I've just touched on a few of the many features available in this new Media Manager. If you're interested, take time to read the whole overview.
Here's the proposed new image editing screen: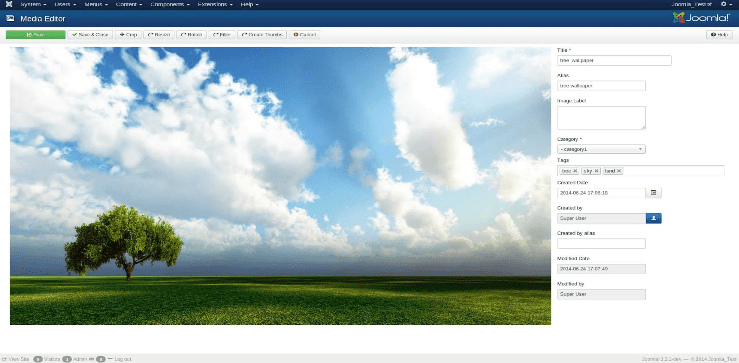 And here are the buttons on top of that screen:

Joomla 3.5 New routing system
This has been on the table for a long time, but it looks as if there may possibly be URL improvements in Joomla 3.5.
Last year, Hannes Papenburg held a crowd-funding campaign to help him work on URL improvements. Hannes has now submitted some of that code.
It remains to be seen how much of the work makes it into Joomla 3.5, but there are signs of progress.
Are there any plans for Joomla 3.6?
The focus is almost exclusively on Joomla 3.5, but one major hope for Joomla 3.6 is the integration of webservices via a REST API.
You can see the roadmap here, and find out more from the Webservices working group.