New Joomla Templates Have Arrived!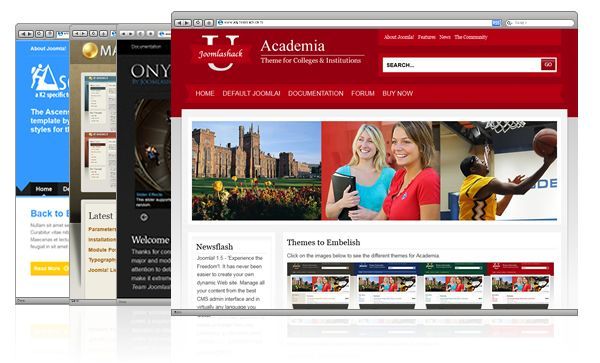 We've added some cool new Joomla 1.5 templates to our Joomla Template Gallery this week (Academia, Ascension & Marble) and updated one of our most popular Joomla templates to 1.6 (Onyx). They're all available now and ready for purchase.
Academia is a great multi-purpose, collegiate-inspired template that would be perfect for schools, daycares, training sites, community sites, municipalities, clubs, groups & more.

Academia comes with 4 awesome preset color schemes, 15 collapsible module positions, 1-3 column layouts and so much more.
ASCENSION
Ascension is one of our most feature-rich K2-ready Joomla templates to date.

Ascension offers 33 module positions, built-in K2 styles, CSS3 design elements (text shadows, rounded corners, etc) a built-in CSS dropdown menu and 4 included themes to make this template truly your own .
ONYX
One of our most popular Joomla 1.5 templates is now 1.6 compatible!

Onyx is a beautiful Joomla! template set that works great with just about any type of site--although its rich tones are perfect for business sites. It's SEO-friendly; is loaded with features and comes bundled with 8 vivid color styles in both dark and light contrast options.
MARBLE
Marble's 'quiet elegance' will give your website an understated, yet sophisticated look your visitors will appreciate.

Marble comes with 4 attractive color themes, unique typography styles, 32 module positions, 1-3 column layouts and so much more.
Grab one or more of these gorgeous new 1.5/1.6-compatible templates today!