You create your JCal Pro event in the "JCal Pro: New Event" admin page.
How to create JCal Pro event
In Joomla control panel go to Components > JCal Pro.
You will see the "Jcal Pro: Events" admin page, the default admin page of the component:
To create a new event, click the green New button in the toolbar at the top-left corner of the page:

Complete the Title field
From the Primary Category field select one of your own JCal Pro categories (you must create them beforehand) or use the JCal Pro default Uncategorized one
Click Save, or Save & Close, or Save & New: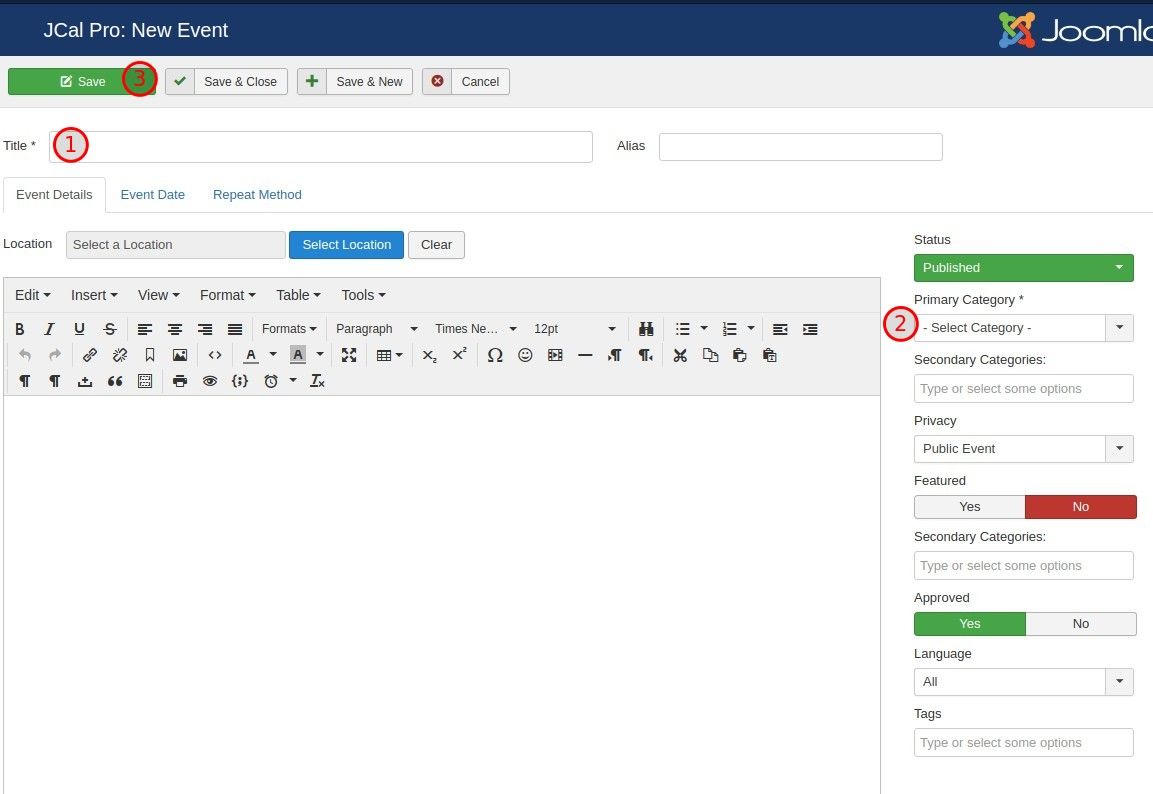 You will now see the "Event Successfully Saved" message: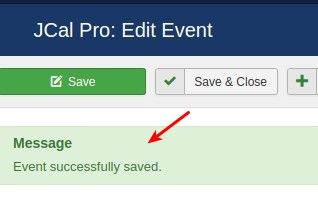 Excellent! You just created your first basic JCal Pro calendar event.
---
Default settings
Take note that besides the required Title and Primary Category fields, that you provided to the JCal Pro component yourself, your JCal Pro event has many other settings. Some of them the component left empty. Others have been set to their default values. Let's have a look at them one by one.
Event Details Tab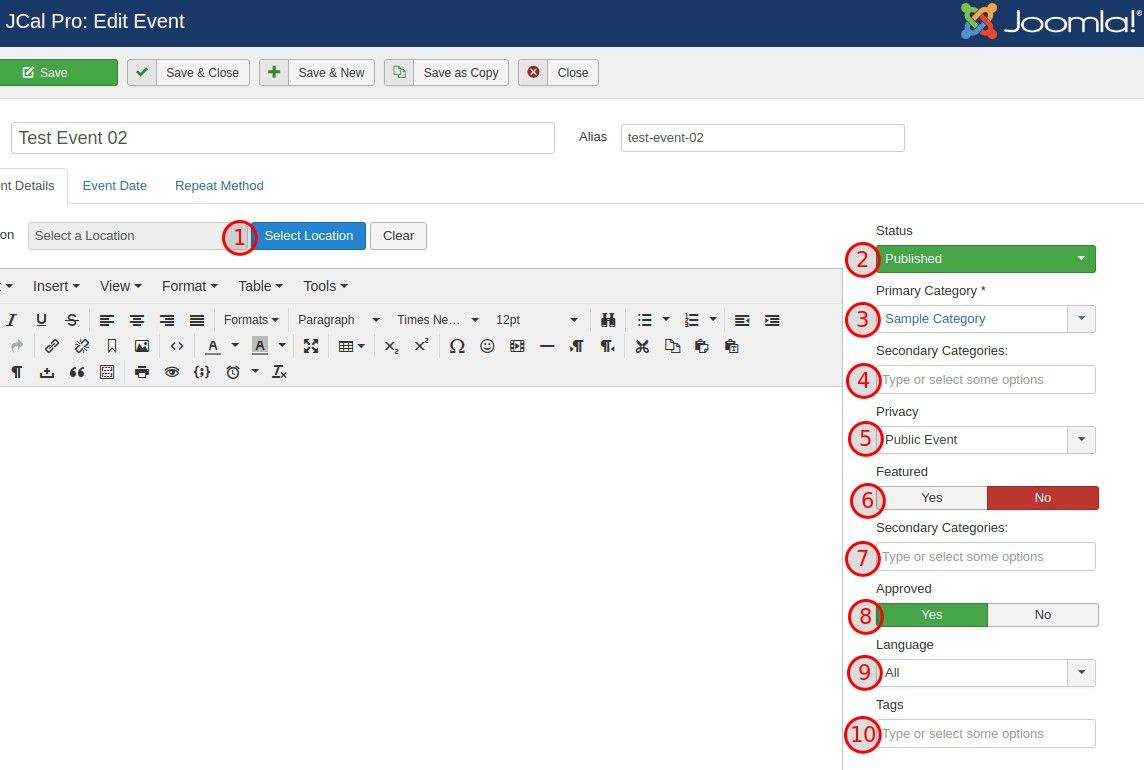 Event Details tab is the default tab of the "JCal Pro: New Event" event creation admin page. It is also default tab for the "JCal Pro: Edit Event" event editing admin page. This is where you can set the main settings for the event being created:
Location. By default, this parameter is left empty. Use it to select a location from the list of existing locations you created beforehand. To learn how to create locations for events, visit "How to Create JCal Pro Event Location".
Published. Just like with Joomla content articles, use this setting to publish your JCal Pro event to make it viewable by the public. Other available options for this field are Unpublished, Archived, and Trashed.
Primary Category. By default, your will see in this field the Sample Category. Use this field to assign your JCal Pro event your own JCal Pro categories.
Secondary Categories. This field will allow you to select child JCal Pro categories, provided if you created them in JCal Pro Category admin page.
Privacy. This field enables you to set your JCal Pro event to Public Event or Private Event.
Featured. This option applies only to the Month calendar view. If you select the Yes option for a JCal Pro event, the little icon next to the event will change to the star and its color will change from the default blue to red:

Approved. This setting allows JCal Pro events moderation by authorized users from back- or/and front end. For detailed instructions on how to set front end event submission and moderation, please visit "Frontend Event Submission and Moderation" tutorial.
Language. Use this setting to select in what language to display an event if your Joomla site is multilingual.
Tags. Use this field to create tags for your new event. This will allow your JCal Pro event viewers to easily filter them.
Event Date tab
The Event Date tab allows you to specify your event start date and time, its duration or to show to its viewers only its start date.
Repeat Method Tab
This tab allows creating events recurring daily, or weekly, or monthly, or yearly. For more details on how this feature works, please refer to our "Recurring Events and How to Cancel Them in JCal Pro" document.
To delete an existing event, select it using the checkbox at the left of the event title then click Delete in the toolbar at the top-right.
To edit an existing event, go to Components > JCal Pro > Events. Then click the event title, adjust the event details, then click Save in the toolbar at the top-right.