The OSEmbed Pro plugin allows you to embed Facebook links in Joomla.
Before you start, please follow this guide and create a Facebook App.
---
#1. Get the URL of the Facebook post
Visit Facebook and find the post you want to embed.
Find the URL for the post by clicking on the timestamp, as shown below.
Here are some examples of URLs of Facebook posts:
https://www.facebook.com/Joomlashack/posts/10157245875930126 https://www.facebook.com/Joomlashack/posts/10157245471095126
---
#2. Add the URL to a Joomla article
Go to your Joomla site and login.
Add the URL of a Facebook post to your Joomla article: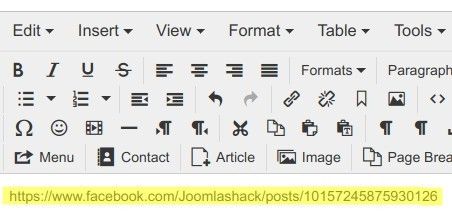 That embed will work perfectly on the front of your site also: