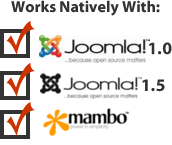 For those of you using the Aqualine Noir template and enjoying the new Joomla! 1.5, you'll be pleased to know we have just updated this great template to run natively with Joomla! 1.5.
We've also done a lot of the hard work for you by adding a 1.5 Quicklauncher package for quick and easy setup.
If you've already purchased, just login and re-download the package.