Outstanding Design Presentations from J and Beyond 2013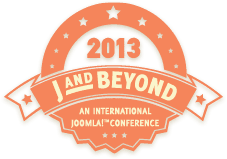 J and Beyond, an International Joomla developer conference, took place this weekend.
Even a couple of years ago we had to wait months to see conference videos posted online. Now, conference organizers can put the videos onto YouTube within hours.
Thanks to the hard work of the J and Beyond team, nearly 50 sessions from this year's event are now available to watch on YouTube.
Over the next couple of weeks, we're going to be showcasing some of the very best sessions from this year's event.
In this blog post, we pull out the three best presentations for Joomla designers:
#1: Clever Joomla! Templating Tips and Tricks
Robin Poort spends his days building Joomla templates. This is a great presentation, full of the shortcuts and little tips and tricks that he's learned while building so many templates:
#2: Using LESS, the CSS Preprocessor
With the introduction of Bootstrap to Joomla 3, LESS has been introduced to the Joomla world. In this video, Andy Tarr gives a great, Joomla-specific introduction to LESS. You can read our full, introduction to LESS here.
#3: Bandwidth optimisation in responsive webdesign
CSS frameworks such as Bootstrap and Foundation are really, really popular. However, frameworks can be slow on mobile devices because they load many unneccessary elements that only need to show on larger screens. Rene Kreijveld talks about dealing with speed problems in responsive design.
Thanks to David, Stefan, Johannes and the whole J and Beyond team for making these videos available so quickly.