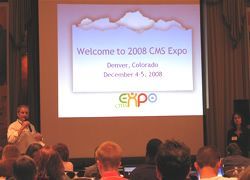 Joomlashack was in the house for CMS Expo Denver last week, and enjoyed a three days of packed Joomla action.
The Expo brought together for the second time a dogpile of friends and colleagues in the Joomlaverse, including our buddies at Azrul.com (Makers of JomSocial), MyBlog, JomComment, and other excellent extensions for Joomla), and dozens of other Joomlaheads.
Check out this excellent selection of interviews and podcasts from the Expo, produced by our new friends over at SDRnews.com
Joomlashack's Barrie North taught a three sessions of interest to Shack blog readers: Black Belt Joomla, Building Online Communities with Joomla, and Creating a Pure CSS Template for Joomla. He's posted his slides over at our sister site, Compass Designs.
Feedback from the attendees has been positive and underscores the true community that is Joomla. See crowd reaction at JoomlaChicago's blog and on Twitter.
This is the second CMS Expo put on by the newly formed but most impressive CMS Association, led by the indefatigable John & Linda Coonen. We're already energized to help with CMS Expo Chicago in May 2009! More info on how to sponsor or attend CMS Expo Chicago coming in the next few weeks.