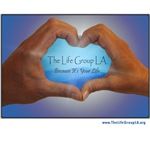 The Joomlashack community has spoken: The Life Group- LA is the winner of our 2008 Charity Contest!
LGLA narrowly edged out the very worth Global Conservation Assistance for first place. Joomlashack is proud to present a $1,000 USD contribution to the Life Group LA.
The Life Group LA is "a coalition of people dedicated to the education, empowerment and emotional support of persons both infected and affected by HIV/AIDS so that they may make informed choices and decisions regarding their healthcare and personal well being."
Founded in 2005, The Life Group LA provides free of charge, much needed information and emotional support through medical forums, emotional support groups, and the POZ Life Weekend Seminar. All services are offered in a non-judgmental and safe environment with compassion and understanding.
Group co-founder and Executive Director Sunnie Rose eagerly accepted the victory earlier this month, and said that Joomlashack's contribution would be used to fund another of the group's POZ Life Weekends, which she described as "a matrix of healing including education, emotional support and community building. We do four seminars per year. We provide 13 or 14 different presentations throughout a weekend on different topics so people have the information to make important choices about their health care, their well-being, finances and spirituality."
Thank you to everyone who participated in our 3rd annual contest. Don't forget to take another look at all five finalists, and see if you can afford a small donation to any or all of them today.