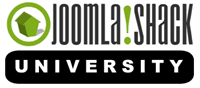 Take your Joomla skills to the next level with our Intermediate Joomla Course from Joomlashack University, the leading online Joomla training course.
When we launched Joomlashack University back in October, we knew Joomla beginners would flock to our rich library of step-by-step videos and written tutorials. And then they did in droves. But what to do when they're ready for more?
The Intermediate Joomla Course
With our first crop of students ready to move into new learning territory, we've loaded the Intermediate course with over 2.5 hours of new video tutorials, including:
Using Paypal to sell services and products - (26:45 min video)
Using Google Checkout to sell services and products - (16:30 min video)
Using Foxy Cart to sell services and products - (28:43 min video)
Using K2 to create a product catalog - (43:41 min video)
Using RS Form Pro to create forms - (26:25 min video)
Joomlashack University is ready for you to begin your Joomla adventure. For as little as $72, you get instant access to this treasure trove of Joomla learning resources.
Learn more about Joomlashack University, and see our full curriculum of courses and lessons.