We are happy to announce that Shack Editorial Calendar is now available for Joomlashack members.
Shack Editorial Calendar is designed for people with busy Joomla sites. With this extension, you can manage large amounts of Joomla articles. You can create, edit and schedule all your content from a single calendar screen.
Shack Editorial Calendar is the second of several extensions we'll be launching as part of our acquisition deal with PixPro Labs. This extension was previously called PixPublish.
This is the 25th extension available for Joomlashack members!
---
Scheduling articles in Shack Editorial Calendar
By default, Joomla has limited support for people who want to publish multiple articles. To schedule content, you have to set the publication date of every article individually. You have to open each article one-by-one.
In contrast, Shack Editorial Calendar makes it quick and easy to plan and schedule your content. Shack Editorial Calendar gives you a calendar view of your Joomla articles. Here's how the extension looks in action, right here at Joomlashack. As you can see, we published a lot of content in the first two weeks of September.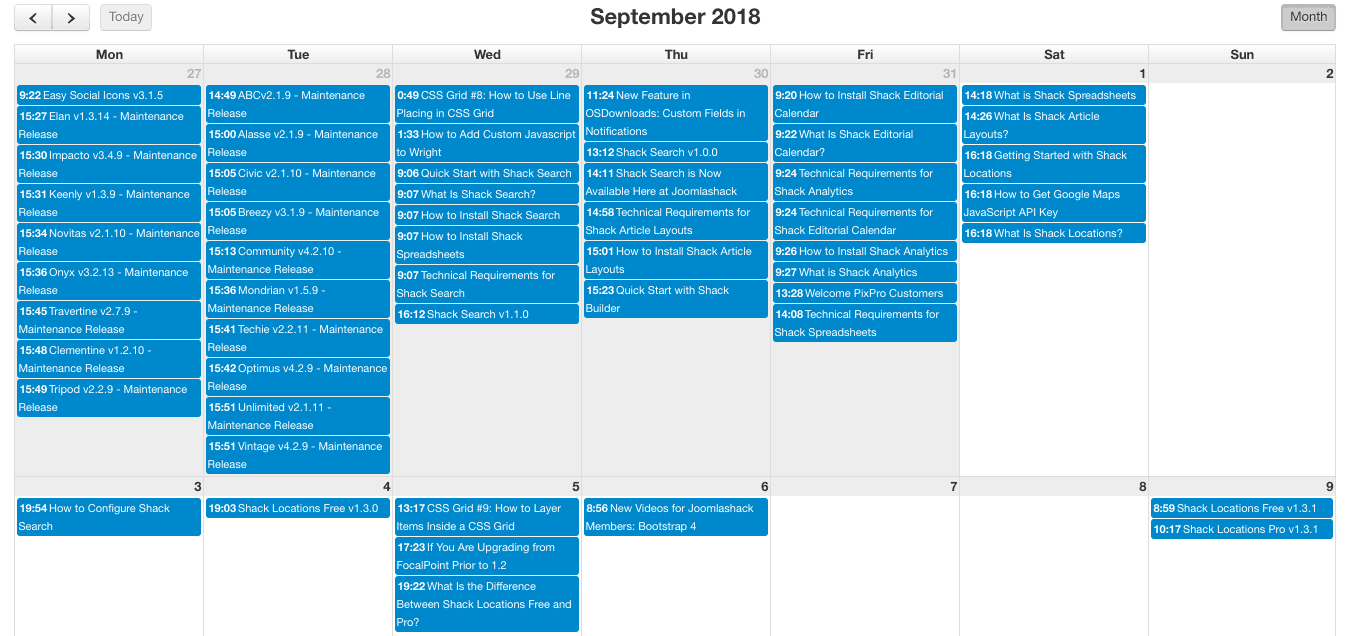 Let's see it in action. In the image below, I have 10 articles scheduled for the same day. I want to publish these articles evenly thoughout the rest of the week, so I drag-and-drop each article to my prefered day: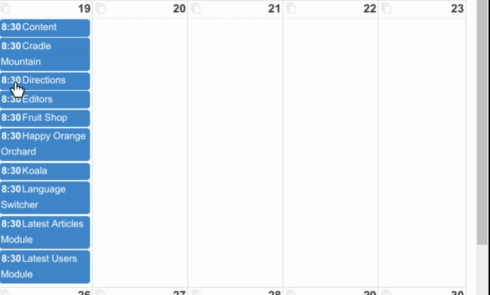 Every article you drag-and-drop to a new day will automatically get that publication date.
You can also update the articles directly from your calendar. Click on any article and you'll see a pop-up screen where you can edit key details: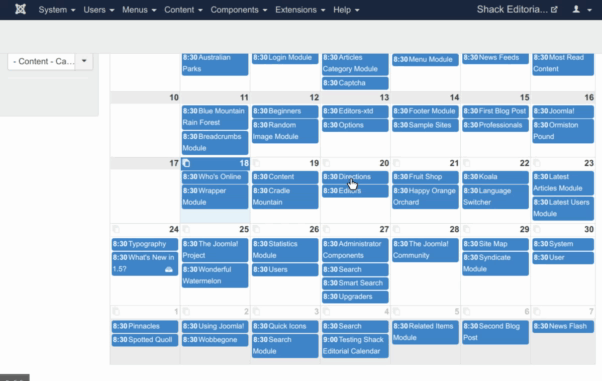 ---
Are you a PixPublish customer?
All existing PixPublish customers will have their purchase agreements honored. If you have an existing subscription to PixPublish, This email address is being protected from spambots. You need JavaScript enabled to view it. and we'll move your subscription to Joomlashack.
---
Here's how to get Shack Editorial Calendar
You can buy Shack Editorial Calendar Pro individually.
Also, you can save $100's when you sign up to the Everything Club today! You will get access to Shack Editorial Calendar as well as all our other extensions, templates, and Joomla training.
Expect to see even more exciting updates and new features from Joomlashack throughout 2018 and beyond!
Thanks for using Joomla!