The Joomlashack Blog
Written by Steve Burge

Steve Burge

Published: 10 January 2010

10 January 2010
One of the most common questions we get from Joomla learners is ... How do I set up a shopping cart with Joomla?
For several years the only option was Virtuemart. However, Virtuemart is a very large and complex product that it simply overkill for many sites.
Fortunately, some simpler and easier shopping carts have recently been released and perhaps the best of the bunch is RokQuickCart from Rockettheme.com.
It does have basic tax and shipping options, plus support for either PayPal or Google Checkout. It doesn't have the ability to put products into categories or have custom fields for products (except color and size). Really it's ideal for a website selling up to 20 or 30 products.
Installing RokQuickCart

Go to Administrator >> Extensions >> Install / Uninstall and upload the RokQuickCart file.
Go to Menus >> Main Menu and click "New"
Choose RokQuickCart >> RokQuickCart Cart Layout for your menu link.

Give the menu link a title such as "Store" and click save.
Visit the front of your site and click on the new "Store" link. It should look like the screenshot below:
Adding Products

The first thing we'll do is add our own products to RokQuickCart. It comes with some sample products that you can use to see how the cart will look.
Go to Administrator >> Components >> RokQuickCart
Click "New" and you'll see a screen like the one below.

Give the product a "Name".
Set your "Price".
Add a "Shipping Cost" - it must be a flat fee and can't be flexible according to location.

You can click "Pick Image" and upload the relevant image.
On the right, if you want to set sizes or colors, just click "Add" and enter the options. Unfortunately you can't change the price based on these options.
Choosing General Settings

Once you have your products installed, there's only one more step - choosing the general store settings.
Go to Administrator >> Components >> RokQuickCart
Click on "Parameters".
Here you can configure how your store looks. More importantly, you can insert your Paypal or Google Checkout account details so you can get paid ... after all, what else is a shopping cart for?

Written by Steve Burge

Steve Burge

Published: 10 January 2010

10 January 2010
In our beginner classes we recommend Google Analytics as a free and accurate way to count people visiting your site.
With Shack Analytics, you have an option to add Google Analytics to all pages of your Joomla site. Install Shack Analytics from your Joomlashack account, then follow this guide.
---
Step #1. Get the Google Analytics ID
Sign in to your Google Analytics account. Please, visit this tutorial on how to create a Google Analytics account, if you still don't have one.
In your Google Analytics dashboard, click Admin.
You will see the new columns. In the Property column, click Property Settings.
Copy the Tracking Id. This is what we will use to connect your site to Google Analytics.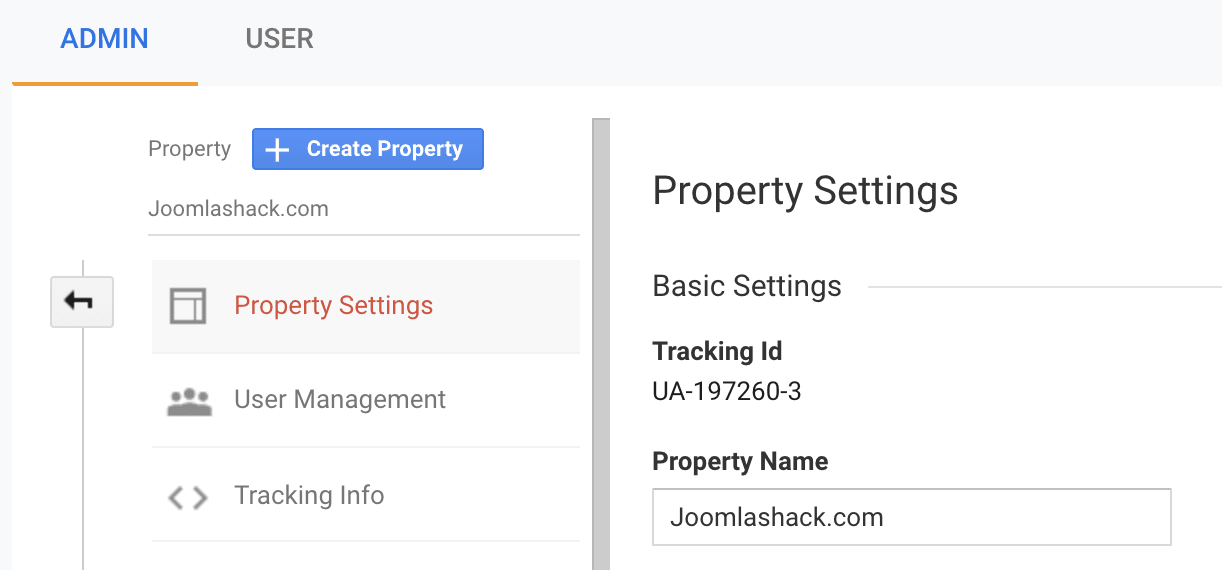 ---
Step #2. Add your Tracking ID to your site.
In your Joomla administrator area, go to Components > Shack Analytics Pro.
You will be taken to the Shack Analytics: Tracking Tags administrative page.
Click System - Shack Analytics.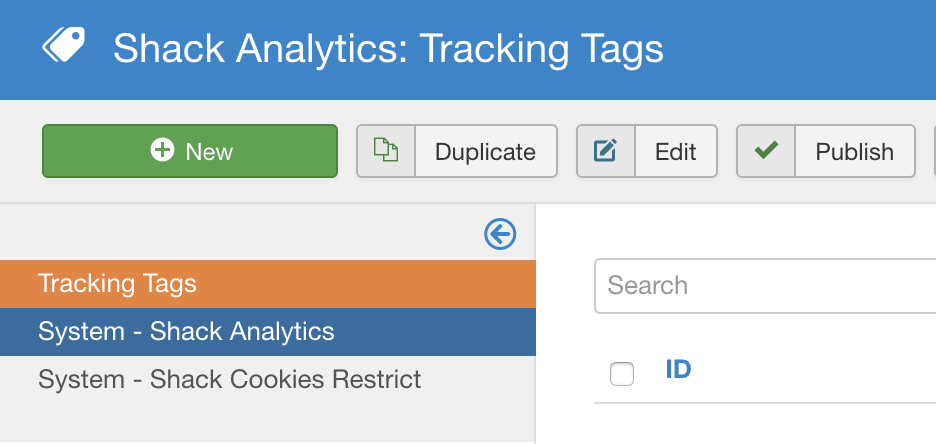 Enter the ID number of your Google Analuytics account into the Universal property ID box.
Make sure that this plugin is enabled.

There are some key settings on this page. Here is what they mean:
Google Analytics: Choose the Google Analytics version to use; Universal or Classic.
Disable cookie: Let the plugin use visitor IP addresses to calculate a unique client ID instead of using a cookie. Accuracy is decreased a little but data is collected even if cookies aren't accepted.
Cookie domain: Override the default cookie domain. The default is the domain of the current web page (minus any sub-domain). Leave it empty to preserve default behavior of Google Analytics.
Anonymize IP: Anonymize visitor IP addresses by telling Google Analytics to not store the full IP address.
---
Step #3. Check your result
Check the source code of your website pages. You will see your Google Analytics tracking code added:

You can also go to your Google Analytics account to make sure that the Google is accepting the code. The best to way to check is by clicking "Real-Time" and seeing if Google is picking up people currently on your site.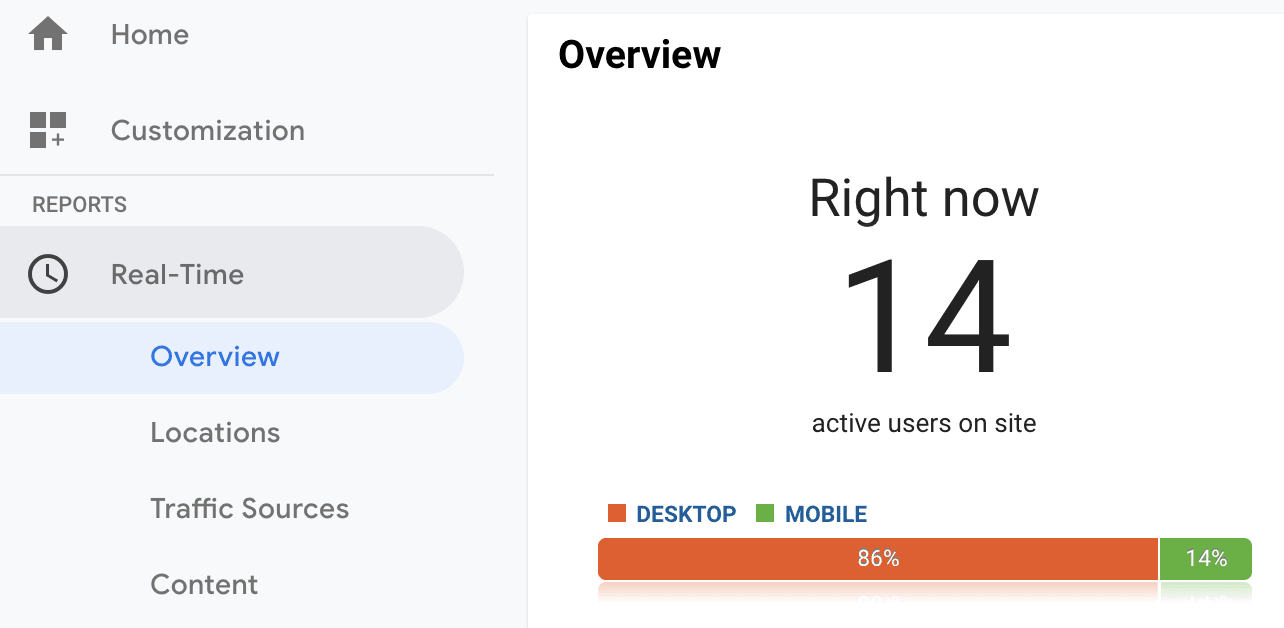 Written by Steve Burge

Steve Burge

Published: 10 January 2010

10 January 2010
This walk you through will help you with adding an image rotator to your Joomla powered site.
We're going to recommend the "Flash Image Rotator" by Joomlashack. It's a free module that allows you to rotate up to 15 images with some pretty nice features.
Here's how you use it:
Step 1: Visit Joomlashack.com and download the free Flash Image Rotator. *You must be registered and logged in to see the download link (register here)
Step 2: In the administration area of your Joomla site, go to Extensions >> Install / Uninstall and upload the file.
Step 3: Upload the images you wish to use to your joomla_root/modules/mod_flashrotator/js_flashrotator/img directory via your favorite FTP client, or by using NinjaXplorer (we have a tutorial on doing that here)
Step 4: Go to Extensions >> Module Manager. Find "Flash Rotator" and enable it, publish it to your preferred module position, and set the parameters.
Step 5: Go to your frontend and view your newly installed image rotator!
SORRY: Joomlashack no longer have this product available.
Written by Steve Burge

Steve Burge

Published: 10 January 2010

10 January 2010
This tutorial will show you how to create a list of related articles for your Joomla website.
You can see an example on the right-hand side of this site in the "Related Articles" module. Joomla is analysing the keywords in the current article and automatically listing other articles that have the most matching keywords. Related articles lists are:
... good for Search Engine Optimization because the search engines can find accurate and descriptive links to other pages on your site.
... good for your users because they can find other articles similar to the one they're already reading ... which is good for you because they may stay on your site longer

In order to create our list, we're going to need three extensions: a component, a module and a plugin. Let's get them up and running on our Joomla site:
Step 1: Click here to download the latest version of the "FJ Related" component.
Step 2: Click here to download the latest version of the "FJ Related Articles Plus" module.
Step 3: Click here to download the latest version of the "Add Keywords" plugin.
Step 4: Go to the administrator area of your site, Extensions >> Install / Uninstall and upload all three.
Step 5: Go to Extensions >> Plugin Manager and enable the "System - Add Keywords" plugin.
Step 6: Go to Extensions >> Module Manager and enable the "Related Articles" module.
Once you've followed those six steps, your related articles list should start working.
A note of caution: the "Add Keywords" plugin will automatically generate keywords for all your articles. You don't have to do anything. However, to reduce the amount of work your site has to do, it may not create the keywords automatically. Have patience and the links will show reasonably quickly.
Written by Steve Burge

Steve Burge

Published: 10 January 2010

10 January 2010
These are the best extensions we use to create Joomla sites. The only criteria for this list is that they are all completely free and run on the latest version of Joomla.
Written by James Hafner

James Hafner

Published: 28 December 2009

28 December 2009
This post is for all of you Mac fans out there, specifically those using the excellent Coda editor by Panic. I could preach all day long about how using a quality code editor like Coda can both speed up your coding as well as make your coding better.
One brilliant little function of Coda is that it has a built-in code snippet collector called 'Clips'. What's even more brilliant is that Coda gives developers a way to share groups of these clips with each other. I was inspired by our friend Jon from Zuno Studios when he released a few clip groups relating to Joomla 1.5 development a few months ago. His clips are specifically geared towards developers creating extensions, and if you're at that level I highly recommend checking out his handy clips.
Since more of my day-to-day work involves creating templates, I put together a set of clips that I use almost daily for creating Joomla 1.5 templates. Lucky for you Coda users out there, I've packaged them up in a tidy group that you can download.
Written by Tom Cannan

Tom Cannan

Published: 18 December 2009

18 December 2009
On 12/17/2008 around 7:00 PM EST , Twitter.com was hacked by a group claiming to be the Iranian Cyber Army. The actual attack was a DNS Hijacking (or DNS Poisoning) that resulted in Twitter Users being directed to a page of their choosing. In this example here is what they posted:
This old school defacement actually was conducted by 'hijacking' the sites DNS - how they accomplished this is still unknown, the fact is they did. What exactly is a DNS Poisoning or Hijacking?
Written by Steve Burge

Steve Burge

Published: 15 December 2009

15 December 2009
One of the most important aspects of extension development is gathering input from the user and manipulating it in a meaningful way. Many times, you will collect data with a form and then store it into a database table. Other times, you will decide how to order or display information to the user based on the query string of the URL. In either instance, you are taking and acting upon input from the user. Obviously, you hope that your users have good intentions in using your extension, but unfortunately, the reality is that not everyone has your best interests in mind. For that reason, you must be careful about the input that you allow into your extension.
Written by Tom Cannan

Tom Cannan

Published: 12 December 2009

12 December 2009
A detailed look at the Wireshark protocol analyzer
Greetings, In this article I want to discuss the other powerful tool a systems administrator should know about. It is called Wireshark (from Wireshark.org). Wireshark is in essence a sniffer, in that it can listen in on the packets on the wire and tell you whats what. Officially its called a protocol analyzer which is more true to its mission. In this article I want to share with you a few items of value about Wireshark, and why you should get to know this tool better.
I think that as technical people we get lulled into a dull sense of safety with tools, for example a reliance on a control panel tool that identifies bad guys by their actions and blocks their IP's. This is for sure a good thing, but it is not the only thing. With tools like Wireshark, we can peer into the activity of our server and see what is going on at the packet level. A client some months ago came to JoomlaRescue.com and was having a problem with continually being hacked. We tracked it down to a compromised (vulnerable) FTP software that had allowed them in. However we found they were using FTP through the use of Wireshark.
This is important because if you were unfortunate enough to have a bad guy insert this INTO your network he could eavesdrop on everything you do. However - in this use case, it is being demonstrated as diagnostic tool.
For the purposes of this article I ran Wireshark on MY personal machine only. It was never allowed outside my network, so in other words, everything you see here came to my machine using normal, everyday browsing techniques.
Written by Barrie North

Barrie North

Published: 09 December 2009

09 December 2009
Joomlashack University - the fastest and easiest way to learn Joomla is about to close its doors for the second time.
If you haven't heard, Joomlashack University is our new Joomla training course. Its delivered 100% online so you can learn at your own pace, and in the comfort of your own home. Each month we open to only a few students, and then stop taking on subscribers. This makes sure our teacher-student ratio is low and everyone's questions are quickly answered.
In November we opened our doors for 200 students have have about 10 spots left. We will be stopping open enrollment next Monday 14th of December, but these last 10 spots will probably go by the end of today!
Read more: 10 Spots Left in 2nd Joomlashack University Class