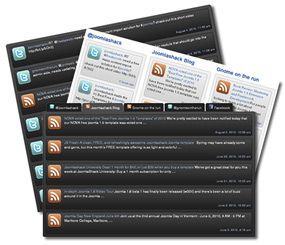 Today, we're excited to announce the release of our very first Joomlashack extension called Lifestream!

Lifestream for Joomla integrates your social network feeds and displays them ALL in one place!
It's a powerful new component & module that dynamically updates your website with all your social network activities and RSS feeds. You can set it to display as separate streams or as one integrated social stream that includes all of your social network updates. You can display your 'life streams' in side-by-side windows, tab view or in one window.

Imagine the power and convenience of sharing your Flickr pics, YouTube videos, Facebook status updates, blog posts, RSS feeds, Twitter tweets and more...all from one website. Cool huh?
Lifestream for Joomla now makes that possible!
Write comment (0 Comments)