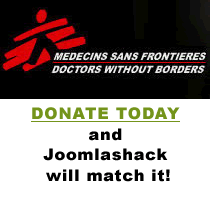 Joomlashack's annual holiday charitable campaign is back with a new twist: We'll match your donations!
For the fourth year, Joomlashack is rallying our community to support a worthy charity during the holiday season.
This year we're supporting the important humanitarian efforts of Doctors without Borders (aka Médecins Sans Frontières, or MSF.)
For every dollar contributed by our community, Joomlashack will match up to a total of $1,000. Other partners may match even more!
What is Médecins Sans Frontières?
Write comment (0 Comments)