Back in January, we looked ahead to 2019 and set three main goals for the year:
Provide customers with a smooth transition to Joomla 4.
Integrate our extensions. For example, we can expand OSMap to provide support for all our new extensions.
Improve the Joomlashack brand by redesigning the logo and rebranding our extensions.
To follow up on the third goal, we recently changed our logo. We're also working to unify the names of our extensions. This week, we renamed our "Share It" plugin to "Shack Article Sharing".
---
Why choose new extension names?
Our goal in Joomlashack has always been to increase value for you, our customers. That's why in January 2017 we announced that we will be happy to adopt new extensions.
Since then we acquired many extensions. Our customers are happy with them, and so are we. But those adopted extensions come from different companies. That means that our naming convention is all over the place.
We have JCal Pro and JInbound from one naming system. We have OSMap, OSDonate, OSTimer, OSYouTube and many others from a different naming system. It's a bit of a mess and can be confusing for our users.
After some brainstorming with our team, we decided to add "Shack" in front of the names of our extensions. We have already implemented this approach for some extensions:
Shack Slides
Shack Forms
Shack Toolbox
Shack Search
Shack Locations
Shack Spreadsheets
Shack Editorial Calendar
Shack Analytics
Shack Open Graph
Now we've also renamed "Share It", our popular plugin for social sharing of Joomla articles on Facebook and Twitter. You will now see it on our site as "Shack Article Sharing".
To be honest, "Share It" was a bit of a silly name and was easily confused with 1,001 other products. "Shack Article Sharing" is a name that's unique to Joomlashack and describes exactly what the extension does.
---
About Shack Article Sharing
Shack Article Sharing is very simple to use, yet a very powerful plugin. Once you install and enable it, it will add Facebook and Twitter buttons to your Joomla articles, as you can see on the image below.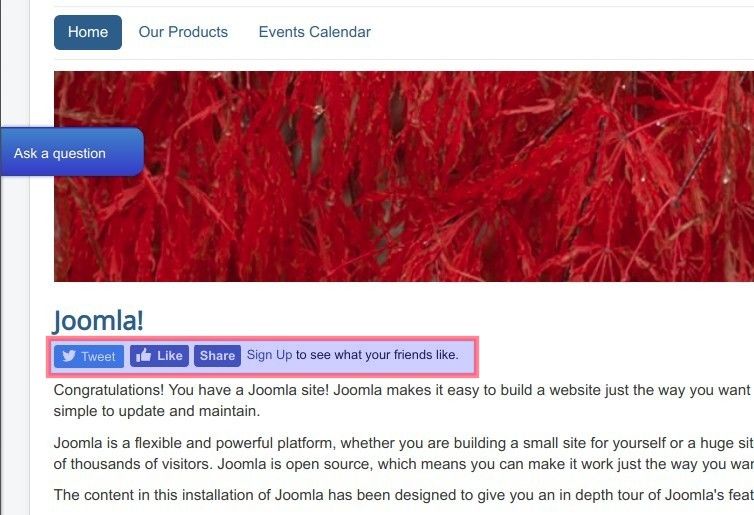 With these buttons:
Your site will look much more appealing and professional.
Your site visitors will be able to instantly share your content with their followers via their Facebook and Twitter profiles. This social sharing of your content will boost your Joomla site exposure to human visitors and search engines.
Shack Article Sharing is a ready-out-of-the-box plugin. Once you enable it, it adds the following features to your site:
Facebook's OpenGraph tags for each of your content articles and blogs.
Facebook's Like and Share buttons (including how many and who exactly has liked the article).
Twitter's Tweet button.
Although it can be configured, the plugin doesn't need more than enabling it to make it work in all your site's content articles:
---
Goodbye to Google+
There is also one new feature change in the latest version of this extension. Google has officially shut down its social network called Google+. To reflect this change, we removed the Google+ share button from in Shack Article Sharing.
---
What's Next?
Save $1000's when you sign up to the Everything Club today! You' ll get access to all our extensions, templates, and Joomla training.