Thank you for your support of Joomlashack.
Joomlashack started in 2005, but our team took over the site in 2016. It's been a busy couple of years as we re-launched Joomlashack.
The re-launch has been possible thanks to many of you. We really appreciate your support.
Here's our recap of the good and bad in 2018 (If you're interested, here's 2016 and 2017). Hopefully this isn't a lame "everything is awesome" post. I'll try and give you honesty and insight into Joomlashack's year. Oh, and read down to the comments for a chance at a special prize!
---
8 New Joomla Extensions
This was the major news at Joomlashack in 2018. A couple of years ago, we started to acquire Joomla extensions. That started with Tabs and Sliders from JoomlaWorks and JCal Pro from Anything Digital. This year, that trickle became a flood:
This made for a busy and stressful year:
It's hard work to find and negotiate each deal.
It's never easy to bring over someone else's code.
Customers often need a lot of explanation and reassurance about the changes.
But, all-in-all, adopting extensions has been successful for Joomlashack. This route leaves almost everyone happy:
The previous developers get to move onto new challenges.
The users get continued updates and support.
Joomlashack gets to add more value for our customers.
So, we're going to keep doing it. We still have two more extensions to release from the PixPro acquisition. And there are more extensions scheduled for 2019!
---
Joomla Templates and the Wright Framework
Extensions are our primary focus, we're still improving our Joomla templates and the Wright framework. Wright now allows you to safely load extra Javascript through a custom.js file. In addition, Wright now has support for microdata and improved mobile menus.
Even though Joomla 4 isn't here yet, we spent a lot of time preparing for this new releases. Joomla 4 will bring substantial changes that impact templates. Here are some of the changes we've already completed so that our Joomla templates are ready for Joomla 4:
Support for Joomla 3 and 4 in a single installer.
Bootstrap 4 support, in addition to Bootstrap 2.
We've added SASS support, in addition to LESS. This is because SASS will be the default in Joomla 4.
CSS Grid integration.
---
Joomlashack University
Joomlashack University got a reboot in December. All the videos are hosted here at Joomlashack, and if you pass the quizzes, you get Joomlashack-branded ceritificates. We're already looking forward to the new technology in Joomla 4 with the CSS Grid Explained book and Bootstrap 4 videos.
---
Maintenance and Custom Work
We've tried some things that ended up not being a great fit for our new direction. So, in 2018, we decided to stop extra development and maintenance. For a couple of years, Joomlashack customers could sign up for "Site Care" and have us look after their sites. We've now stopped the Site Care service.
From now on, Joomlashack is 100% focused on products, rather than custom services.
---
Traffic to Joomlashack
One extra, and very significant, adoption in 2018 was from one of our sister companies: OSTraining.
We've had been blogging about Joomla at OSTraining.com for about 10 years. We decided to move that decade of blog posts over to Joomlashack. The process was really easy thanks to the J2XML extension.
This image below shows Joomlashack's traffic in 2018. Can you see when we moved over all those blog posts? After the move, Joomlashack's traffic increased from around 6,000 visitors per week to around 14,000.

We either wrote or updated 209 blog posts, plus 191 documentation articles. Rather than focus only on new articles, we spent a lot of time updating old posts, particularly some of those from OSTraining.
Here's a list of the most popular new posts of last year:
Joomlashack is 13 years old now so there's a lot of historical data to look at. I had a feeling that we were becoming less reliant on the United States for customers, but the data confirmed it. About 50% of our customers come from the United States, but the rest of the world is catching up. Here's a comparison showing where the location of visitors to Joomlashack.com over the years. You'll notice that the list is increasingly dominated by European countries.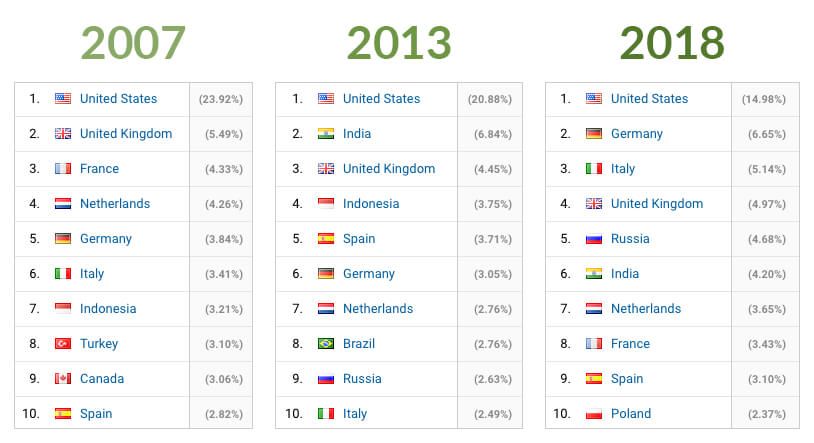 ---
Subscribers at Joomlashack
You saw that traffic to Joomlashack jumped in September. Was that reflected in the number of sign-ups?
Here's the subscriber base at Joomlashack from January 2016 to December 2018. In those three years, we've grown from 400 subscribers to 2,400.
This graph shows the number of people with an active Joomlashack membership. It's worth noting that many people have memberships to more than one extension or template, so the actual number of subscriptions is higher than the number of subscribers.

In this next image, I've added arrows so it's easier to see the growth rates. You'll notice a period of slower growth from Summer 2017 to Summer 2018. That started to change when we moved the Perfect Web extensions to Joomlashack in June. After all, Shack Forms is #14 on the "Top Rated" list at extensions.joomla.org, so that attracted new customers.

However, the traffic boost in September increased our growth even more quickly. At the end of 2018, we were regularly adding 100 new subscribers per month. In the image below, new subscribers are in green and churned subscribers are in red.

The next image is an overview of how that larger chart breaks down. In November, we added 178 new subscribers, but lost 58 to churn. That left with us a net increase of 120 subscribers in the month.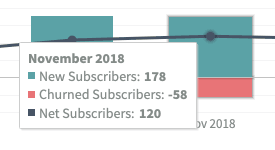 If I had to pick a major disappointment for Joomlashack in 2018, it would be the number of churned subscribers. Every time we gain three customers, we lose one. We need to do a better job of finding and solving the reasons why those people cancel.
---
Goals for 2019
Goal #1: The transition to Joomla 4. Yes, this is still on the list. Joomla 4 wasn't released in 2018, but we'll do our very best to help and prepare for a 2019 launch. Our goal is to ensure you, the customer, do NOT have to invest much time in updating to Joomla 4. We promise that Joomlashack extensions and templates will update easily to Joomla 4.
Goal #2. Integrate our extensions. For example, we can expand OSMap to provide support for all our new extensions. Or we allow people to pass marketing leads from Shack Forms to jInbound.
Goal #3. Improve the Joomlashack brand. There are a couple of pieces to this. First, the Joomlashack logo and word mark is looking old and it's time for a design refresh. Second, one of the downsides of adopting extensions is that the naming becomes really inconsistent. In 2019, I'd like to continue rebranding our extensions using the "Shack XYZ" formula. This means that OSYouTube will become "Shack YouTube", "OSCampus" will become "Shack LMS", and so on.
---
Your thoughts
Let us know what you think in the comments below.! We couldn't do this without your support.
We'd love to hear what you want from Joomlashack in 2019. The best responses will get a 1 free year of Joomlashack's Everything Club.