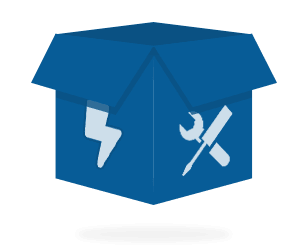 Back in March, we announced the acquisition of Perfect Web, another Joomla extension company.
As a result, three Perfect Web extensions are moving to Joomlashack.
I'm delighted to say that the first extension is here! The original name of the extension is "Perfect Everything in Everyway". We're going to call it "Shack Toolbox".
Shack Toolbox provides powerful tools to show content from 19 different sources.
Shack Toolbox has over 50 reviews and a perfect 10/10 score on the JED.

Shack Toolbox provides an easy way to display multimedia and content inside a module position. Here's a list of the 19 sources that you can show inside a Shack Toolbox module:
Google Maps
YouTube Video
YouTube Gallery
Vimeo Video
Any Joomla Module
Joomla Article
K2 Item
Zoo Article
Seblod Article
Iframe
Link
Facebook Page
Facebook Post
Custom HTML
Twitter Feed
Instagram Post
Mailchimp
Freshmail
Cookie Policy
Moreover, you can display these items in many different ways. You can display them as an ordinary module, or you can use 20+ themes, animations, and visual effects including lightboxes, slideboxes, and popups.
If you're curious, click here to see a demo of many Shack Toolbox features.
Getting Started with Shack Toolbox
Click here for our guide to getting started with Shack Toolbox.
What's the Difference Between Shack Toolbox and OSEmbed?
A few users asked about the similarirties between Shack Toolbox and OSEmbed. Both these extensions allow you to show content from other sites.
The simplest explanation is that Shack Toolbox is designed to be powerful and OSEmbed is designed to be easy.
With Shack Toolbox you have hundreds of different layout, design and configuration options. You can show Shack Toolbox anywhere on your site.
With OSEmbed you just need the URL for the content. There are no configuration options and it only works inside the text editor.
What Will Happen for Perfect Web Users?
All existing Perfect Web customers will have their purchase agreements honored.
If you want to move your account now, you can This email address is being protected from spambots. You need JavaScript enabled to view it.. Or look for us to contact you in the nex few days.
Please note: You will need a new license key from Joomlashack to keep updating your extensions.
What Will Happen for Joomlashack Users?
Anyone who is an Everything Club member will get access to these extensions. Joomlashack just got even better for you.
What Comes Next?
In the next couple of weeks, we plan to relaunch two more Perfect Web extensions here at Joomlashack:
Shack Forms (formerly known as "Perfect Ajax Popup Contact Form")
Shack Open Graph (formerly known as "Open Graph and Twitter Card Tags")
Sounds Exciting? Here's how to get the extensions
Save $1,000's when you sign up to Joomlashack's Everything Club.
You will get access to all our 32 extensions, and legendary support!
Click here to join the Everything Club